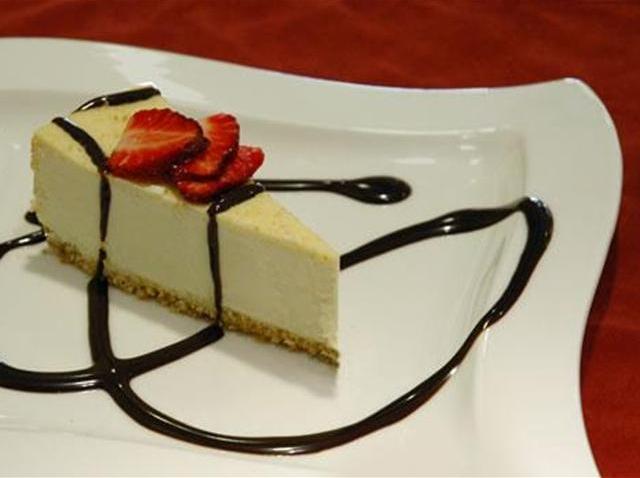 Preheat oven 350 degrees

Crust

1 Cup of crushed graham crackers
1 tsp cinnamon
2 tbs sugar or sugar substitute
3 tbs softened butter, or Smart Balance

Pour crumbs into a bowl then add cinnamon, sugar and then butter and Blend until mixture holds together when pinched. Press down into bottom and up the side of a greased 9 inch spring form pan. Place into refrigerator until filling is ready.

Cheesecake

3- 8 oz packages of cream cheese, softened, or low fat cream cheese
4 eggs or 1 cup of egg substitute
1 cup sugar or sugar free substitute
1 tsp fresh lemon Juice, or lemon extract or vanilla extract, (I prefer lemon juice)

Preparation

Blend cream cheese until creamy. Gradually add one cup of sugar. Add each egg individually, or Egg substitute Add lemon Juice, (Vanilla or Lemon extract) Mix until smooth. Pour into prepared pan. Bake one hour or until golden brown and center jiggles slightly.

Topping

One 16 oz container of sour cream
1 cup of sugar, or substitute
1 tsp. vanilla or lemon extract

Mix well, pour over cheesecake. Place back into oven for about 7 minutes. Cool on a rack and then transfer to refrigerator. Works well if you prepare the night before or early in the morning. It should cool for about 12 hours. Top with any desired fruit pie filling or fresh fruit with a fruit flavored glaze.