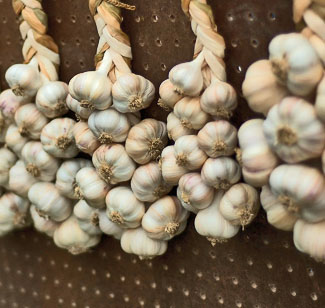 You can finally get some relief from those pesky mosquitoes—and vampires—that have been following you around and draining you dry. It's National Garlic Day. And if there's one thing that makes you dis-tasty to blood-suckers, it's good old garlic.

The purpose of giving the onion (fact: garlic is part of the onion family) it's very own day is to promote its many uses. From medicinal purposes—it's know to help fight colds and lower cholesterol—to delicious ingredient, there's a lot you can do with garlic today, like head over to Café Prima Pasta at 414 71st Street for Italian offerings of the veggie.

To celebrate the infamous Italian ingredient, Café Prima Pasta is marking menu items with the pungent veggie as low as $4.19 (the date of the big day). Feast on Vongole di Prima (baby clams) and Bruchetta, all with a pinch of garlic, of course.

There's even a Vampire Cocktail on the menu, should you want to keep your date arm's distance from your neck. The drink includes, what else, garlic. Just don't forget to bring a mint—or five—for later.