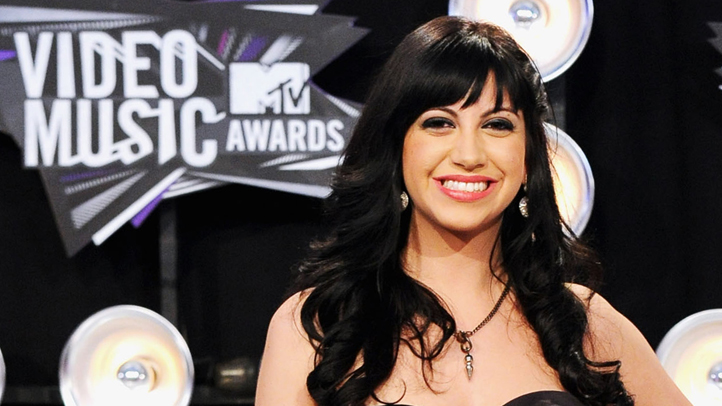 If last night's MTV VMA awards seemed awfully 305, well, they were. But it wasn't just locals Pitbull, Nayer, Rick Ross, Flo Rida, Brisco, and DJ Khaled staging an L.A. takeover, there was a little Magic City behind MTV's red carpet pre-show coverage, too. Miami's very own DJ Jessica Who took a break from residencies at LIV, Purdy Lounge, and Grand Central to grab an MTV mic to interview the stars and talk fashion, music, and pop culture -- something she told Niteside today was "Really, really fun. A little bit overwhelming, but really fun."
Did you have any experience with this sort of thing?
No. This was my first time at the VMAs, my first time at any crazy awards show like that. It was a little surreal, but it was really exciting.
How'd you get hooked up with this gig?
Dove Go Fresh and MTV partnered up and then reached out to me directly to do a video series, this project called Fresh Spin where they're using three female DJs -- I'm one of them -- to highlight what we think is happening with fashion and music and pop culture right now. They followed me around my home in Miami and here at the VMAs in LA and put together a really awesome video series that's online at dove.mtv.com.
You were in L.A., but it seemed like Miami last night. Pitbull was there with his crew, and at one point you even tweeted that the lasers were like being home at LIV.
Miami, you know, we came heavy at the VMAs last night! We had [Rick] Ross, and Khaled, everybody was there.
Let's talk fashion. Who did you see that was completely outrageous, and who did you love?
They're one and the same, because it was totally outrageous and I absolutely loved Lady Gaga. I missed regular lady Lady Gaga, but I thought doing what she did in staying in character the whole night was bizarre but I loved it. Everyone was like 'what's she going to come up with next?' and that was like, woah -- nobody saw that coming. I loved it, I thought it was amazing.
There's this trend where everybody just puts on a lot of crazy stuff. Nikki Minaj looked like she rolled around in a Candyland game and Katy Perry changed to put a box on her head. Does it look just as weird in person?
I think it was weirder in person. Nikki was awesome, she always does the cotton candy hair thing, and I loved what Katy was wearing when she came in. She had the pink hair and I thought that was really great. But the Rubic's cube cheese thing -- I'm not sure what was going on with that. But hey, keep it different!
How did you decide what to wear?
You know, I had a great stylist. His name is Art Conn; he works on American Idol. We went to a showroom and tried on 300 different dresses and I just picked something! It was a dress by Aiden Mattox, a little retro, a little punk rock. It's my style, I guess!
As far as performances go, did you get to see everything?
Yeah, I definitely had a great seat. I was really excited about Jay-Z and Kanye. The album is huge right now, but I feel like it does live up to the hype. And their performance, you know, it was very bare bones for them, but it was awesome! It was so cool to see it in person.

You've just moved to S.K.A.M., and now you're on MTV. Obviously, you've had a lot of success, but it seems like you just went into overdrive all of a sudden! What's next?
I honestly feel like I'm in overdrive right now, it's been a lot all at once. But I'm super psyched to be on S.K.A.M. and I'm really excited to be working with Dove and MTV. What's next is to keep traveling, maybe produce. I would love to go on tour -- maybe be a tour DJ for somebody. We'll see! I take it one day at a time.
Are you exhausted?
Yes! But it's for a good cause.
I assume you hit up a few afterparties.
Yeah, I hit up a couple. I did the official MTV one, where my fellow S.K.A.M. artists was DJing, Graham Funke. And Pauly D. So that was fun. But, you know, it's been a long day.
Okay, so: Pauly D. Can he DJ?
Yeah! He's really not -- there's a lot of hype, there's a lot of like, anti-Pauly D. stuff going on. But he's a really nice guy, and I have nothing against him.