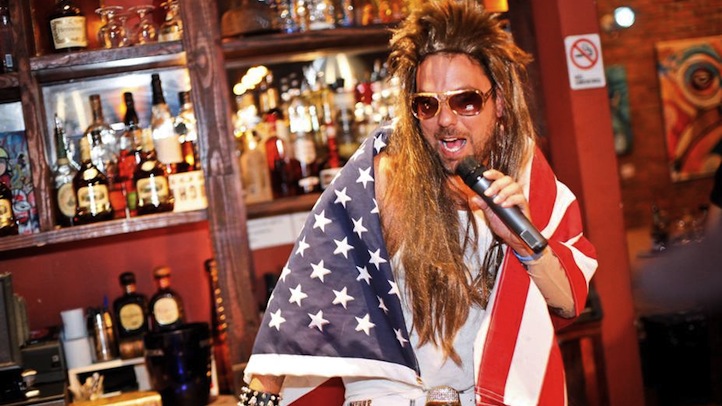 Appleton Estate Jamaica Rum brought the spirit of Cocktail last night at The Stage with Remixology, its second Annual Bartender Challenge. The contest pits the most creative booze-slingers against each other in New York, Boston, San Francisco and Miami. Each dreams up a drink inspired by their favorite song and another created to honor a movie filmed in their hometown. The thirsty crowd at the competition was entranced by each performance and treated to free daiquiris, punch and spiked sorbet. Second place winner John LerMayer, the head bartender at the Delano's Florida Room, spoke about his experience with Jamaica, Appleton and dressing like a hillbilly.
How long have you been at the Florida Room for?
Since it opened. We're going on four years now.
What song did you chose?
I started bartending because of music. I'm really into reggae and I've been to Jamaica dozens of times. It's kind of where I discovered Appleton Rum. The first cocktail I ever drank was a classic daiquiri, not the frozen kind, but the classic, so sugar, lime juice, and Appleton Rum. So when Remixology came about, I chose a song by one of the greatest voices in Jamaican music. A man by the name of Beres Hammond. The song was called "Rockaway."
What'd you make?
I did a variation on the daiquiri that I called the Rockaway Daiquiri. I used fresh lemon instead of lime, instead of sugar, I used maple syrup, and then I used a little bit of vanilla liquor and then some pineapple juice and dusted the top with nutmeg. All very indigenous Jamaican ingredients.
What movie did you pick?
My favorite actor of all time, or one of them, is Al Pacino, and everyone thinks Scarface, but he also did a movie down here called Any Given Sunday. Oliver Stone was the director. What tied it in even more was when I first started bartending in Miami in a place called Groove Jet, the first famous person I ever served in my life was Oliver Stone.
We have to take a song off the soundtrack of that movie and I chose a Kid Rock song "Bawitdaba" so I kind of dressed up like a classic central Floridian with a mullet and a wife beater, and I don't fit into a wife beater really well, and I put a fake tattoo sleeve on. Just rocked it out. Within bartending there's always got to be that element of entertainment, kind of like with a rock star. Sometimes you have to force people to have fun teach people that it's ok to let your hair down and do it.
Would you call yourself a mixologist?
I absolutely don't. I'm a professional bartender who practices mixology. I say mixology is a practice not a person.
Do you have a favorite night at the Florida Room?
I like any night where people are coming in, having fun, and drinking cocktails.