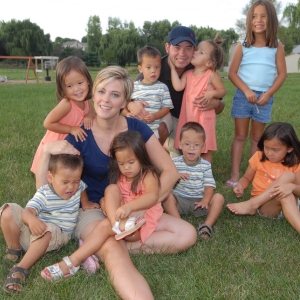 Jon and Kate Gosselin may be getting a divorce, but the separated couple didn't celebrate their independence on the 4th of July.
Instead, the reality stars joined their eight children for the holiday at their home in Wernersville, Pa., People reported.
VIEW THE PHOTOS: Hollywood's Stars Shine In Red, White & Blue
The family was reportedly spotted playing volleyball and picking blueberries for a cake baked by Kate. For his part, Jon lit up a sparkler.
"Jon pointed to the July 4 holiday and said, 'What are we going to do about that?'" Kate previously told the mag. "I absolutely cannot imagine not spending every single holiday with my kids. I don't care what it takes. I will be there."
VIEW THE PHOTOS: Jon and Kate's Family Photo Album
As previously reported on AccessHollywood.com, Jon and Kate announced their separation on the June 22 episode of their TLC show, "Jon & Kate Plus Eight," filing divorce papers two days later.
The show is on hiatus until August 3 in order to give the family "time off to regroup," according to TLC.
Related Content from AccessHollywood.com:
VIEW THE PHOTOS: Keepin' It Real With TV's Hottest Reality Stars!
PLAY IT NOW: Kate Gosselin Denies Daughter Water (Jan 28, 2009)
PLAY IT NOW: Lauren Conrad Reacts To Doug Reinhardt & Paris Hilton's Split

MORE ACCESS ON THESE TOPICS: Kate Gosselin - Jon Gosselin - Reality TV - Parenthood - Divorces

Copyright NBCAH - Access Hollywood