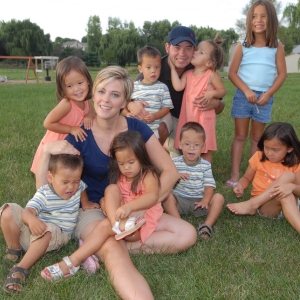 It's Father's Day – and for the Gosselin brood on Sunday, that meant Mom was nowhere to be seen.
With the struggling family set to make a big announcement on "Jon & Kate Plus 8" on Monday, dad Jon was spotted playing with his kids on Sunday and taking questions from fans and reporters at their Wernersville, Penn., home.
VIEW THE PHOTOS: Hollywood Dads
Asked where wife Kate was, Jon said he had "no idea," according to People.
However, he would not answer questions about a potential divorce – which is rumored to be Monday's announcement – or his recently reported New York apartment hunting trip.
VIEW THE PHOTOS: Jon and Kate's Family Photo Album
"You'll have to watch the show," Jon said.
One thing he did discuss was son Aaden's recent injury – the young boy was photographed last week with a band-aid on his head.
"They stitched it up and he's fine," Jon said, explaining that Aaden had hit his head on a corner while playing in the house.
VIEW THE PHOTOS: Keepin' It Real With TV's Hottest Reality Stars!
While Kate wasn't around to keep him company, Jon got Father's Day love from his kids, who made him homemade cards for the big day. The family played lacrosse and the young Gosselins tried out a Slip 'N Slide on the front lawn before Jon took questions and signed autographs.
Related Content from AccessHollywood.com:
PLAY IT NOW: Are 'Jon & Kate' One Step Closer To Divorce?
PLAY IT NOW: What Is 'Jon & Kate's' Big Announcement? (June 18, 2009)

MORE ACCESS ON THESE TOPICS: Jon Gosselin - Jon & Kate Plus Eight - Kate Gosselin - Reality TV - Parenthood

Copyright NBCAH - Access Hollywood