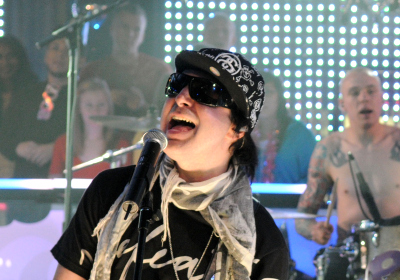 Being the cool rock dude in the midst of America's most prolific hip hop crew would be nerve rattling for even the most hardcore of heavy metal cats, but Kevin Rudolf's unmoved. In fact, Rudolf is having the time of his life working alongside Lil Wayne, the music biz's currently incarcerated enigmatic king, and Drake, his heir apparent.

Rudolf parlayed a guitar riff on Lil Kim's "The Jump Off" into collabs with the likes of the Black Eyed Peas, Justin Timberlake and Nelly Furtado. These days he jet sets between New York, LA and Miami to break bread with his Magic City-based Cash Money brethren. Consider his latest offering "I Made It," an exhale.

How did you get your break at Cash Money Records? Working alongside Lil Wayne must be amazing and equally demanding. I brought the project to them and they loved it. I felt like they got it and knew what I was going for. I didn't have to explain myself to them. Working with Wayne is great. He is a true artist with a real vision of himself.

Now that you're an integral part of the most prolific hip hop label, how has it been bringing your signature rock sound to the mix? I think for my sound and for what I'm doing go hand and hand with Cash Money. Like I said, they truly got my idea and concept. It's been a blast and a pleasure working with them. They have so many amazing artists over there. They gave me the freedom to do my music, my way. There are no limits over there.

Was it natural for rappers and rockers to merge? There's been an obvious rock influence in hip hop dress. "Let It Rock" was a huge crossover success. It's true. I think in modern music all styles are fusing together. It's also a natural evolution. Each genre takes elements from the other to create a new sound.

Who and what were the major influences of your newest project? I draw from all kinds of music, rock, pop, electro, rap, etc. To me it's never been about limiting myself or just doing one thing. Music is expression in any form it takes.

Finally, do you offer Wayne any tips on playing the guitar? No I don't. Wayne has his own sound and I dig it.