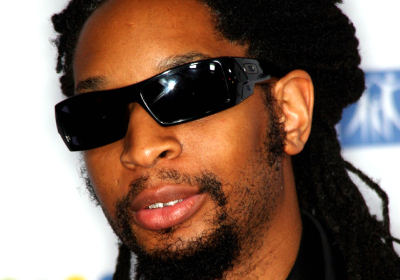 It's been six years since Lil Jon dropped an album and in his latest, The King of Crunk promises to showcase a variety of styles -- and a brand new catch phrase.
"I got a song on my album entitled 'Hey!' with me and 3OH!3," he said after arriving in Miami to promote the new album. "That's the new catch phrase I'm bringing out."
"There is traditional crunk Lil Jon then there is a record with me and 3OH!3 — every kind of Lil Jon anyone has ever heard is on this album," the energetic rapper said.

The album, entitled, "Crunk Rock" dropped on June 8th and it wasn't his only project that debuted that day.
He worked with everyone from Usher to LMFAO and Jon's latest endeavor was producing a track for Christina Aguilera's newest album "Bionic." Even with its poor sales and daily tongue-lashings from Perez Hilton, Jon is loving the pop stars newest musical venture.

"Perez is cool, but I don't know what all the drama is about," Jon said. "But he is a big Gaga fan, that is his home girl, so of course he wants her to be on top."

"Christina is trying to do her thing, let her come back and reinvent herself," he added.

Jon, who will host Mansion on Miami Beach this evening, is known for his outlandish lyrics, long dreads and the bedazzled chalice he is never seen without.
If those are his trademarks, then what shot him straight to worldwide stardom was Dave Chappelle, who mimicked his signature phrase "WHAT?Ok!" on multiple episodes of his hit comedy "The Chappelle Show."

"The first time I saw the Dave Chappelle's skit, I thought it was amazing," he said. "Then when he did another one, I was like 'really?' Oh my God. I definitely thought it was as funny as everyone else did."

With the skit having almost 2 million hits on YouTube, there is no doubt that the phrase is here to stay -- even though the hip-hop artist wishes it wouldn't.

"It gets annoying sometimes. People just come up to me and scream, 'Yeah! What?'" he said. "It's a strange thing to be getting off a plane and have people screaming at you."