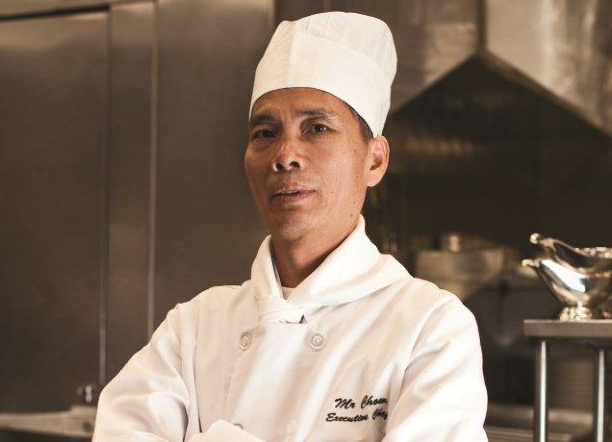 Mr. Chow, which opened its Miami outpost in August 2009 inside the W South Beach, has been a favorite of celebrities since opening its first location in London over 40 years ago. With A-listers like Courtney Cox to Kim Kardashian stopping in weekly, it's no surprise that the resto has locations in five cities worldwide and one on the way in Las Vegas.

But Mr. Chow isn't just known for its clients, their food isn't too shabby, either. Since day one owner Michael Chow has made it his goal to serve the highest quality in Beijing cuisine using original recipes and the best and freshest ingredients -- and Mr. Chow Miami's executive chef, Yuen Keung Lau, knows a little something about Asian food.
Lau, a native of Canton, China, is one of the most established chefs in Beijing-style cuisine in the United States. Known for his well-honed culinary skills and his ability to integrate his experience in the world of culinary arts, there is no question why he has been with the Chow family since 2002. The chef sat down with us to fill us in on everything Mr. Chow and why he thinks your refrigerator should be full of meat.

There are Mr. Chows in London, Beverly Hills, New York and now Miami. Are they similar or is there a difference in every location?
While they all embody the basic ideas of the Mr. Chow name, the locations represent the cities and neighborhoods they are in. At Mr. Chow in London, guests get a strong sence of history. After all, it was the first location and this year celebrates its 42nd birthday. Miami is grand in scale and has beautiful, bold interiors, which, I think, is representative of the city's personality.

At what point did you realize you were destined to be a chef?
I arrived in Hong Kong from mainland China when I was 19 and was fascinated with the Chinese food culture. I have always had a passion for cooking but being in Hong Kong made me realize there was nothing else I wanted to do.

If you weren't a chef, what would you be?
I have actually never thought of being anything other than a chef.

Is it intimidating to have a boss like Michael Chow, who has been in the business since 1968?
No, not at all. Both Michael and Eva are a true pleasure to work for. They really care about the business and the people that work for them.

Some of your dishes are Mr. Chow specialties from the seventies. How did you incorporate your creations to fit Chow's traditional recipes?
I work to incorporate new techniques and flavors with the classic dishes that have made the Mr. Chow name famous. It's about blending the old with the new to create something that is truly contemporary.

If you had to choose only one dish from the menu, which one are you most proud of?
Ma Mignon, an original Mr. Chow recipe.

What would you say is the most popular item on the menu?
Chicken satay, Ma Mignon and the Drunken Fish.

You have worked in kitchens around the world. How is Miami's dining scene different from, say, Los Angeles or New York?
The scale of the Miami restaurant is different from the others. Plus, we are inside the W South Beach here; all the other locations are stand-alone and not inside a hotel. We see such an eclectic mix of people in Miami because of that.

What ingredients do you love to work with?
I really love to cook with filet mignon.

First dish you learned to make?
Shandong-style chicken.

Is there a chef, dead or alive, you would love to get in the kitchen with?
I would love to cook with Master Chef Wang. He was a great chef in Hong Kong who specialized in Beijing cuisine.

The 5 ingredients every kitchen should have?
Beef, duck, pork, fish and shrimp. You can use pretty much anything you have in the kitchen to add flavor to these and create something delicious.

The 5 utensils every kitchen should have?
Stir fry wok, knife, slicer, mixer and ladle.

Favorite food-related memory?
My favorite food memory would be anything having to do with fresh and sweet whole fish hilsa herring. It was available in Shanghai area but has become very difficult to find these days.