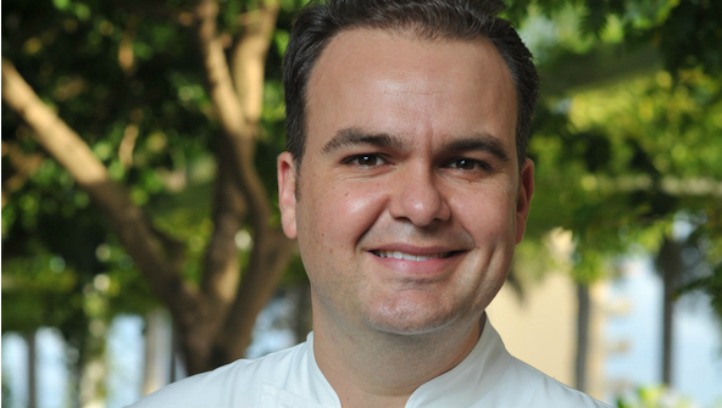 It's easy to think that visiting a hotel restaurant calls for getting dressed up and should be saved for a special occasion. Well, The Four Seasons is challenging that notion with Edge, Steak and Bar--- the newest no-frills restaurant to hit the South Florida dining scene. It's contemporary American menu boasts of spices and herbs from the restaurant's own garden, mixed in with seasonal ingredients bought by top local producers. It will offer Miami foodies and power crowds alike an approachable, non-traditional menu of high quality ingredients acquired locally. Executive Chef Aaron Brooks, who comes to us from Boston, is taking the new project head on, and tells us here about the restaurant as well as the comforts of home.
I'm sure all the dishes on each of your menus are like your children, but if you had to choose only one dish from the menu, which ones are you most proud of?
The corvina tartare is pretty tasty. Diced corvina marinated with aji amarillo, lime and celery, finished with Granny Smith apple and celery. It's got the perfect balance of sweet, saour, salty and nice touch of heat. Perfect way to start off before diving into one of our signature steaks from Creekstone Farms.
Most popular item on the menu?
Our tartares are pretty popular but I have to say the calamari a la plancha is a close second. We get our baby calamari in fresh from New England and give it a hard sear on the plancha. Served with a rich tomato sauce with Spanish chorizo and fino sherry it's pretty awesome.

How would you describe Miami's dining scene?
I would describe it as eclectic and diverse. I love the contemporary melting pot of cuisines here. There are so many bright flavors and spices to go with the vibrant lifestyle.

The secret to cooking perfect pasta?
Make it yourself! It is so easy to make your own. That and boiling salted water and you can't go wrong.
At what point did you realize you were destined to be a chef?
My mum pushed me into the trade when I was 17. The minute I entered the kitchen and was exposed to the awesome array of ingredients, vast knowledge and technique that goes into giving them respect, I realized I couldn't fathom doing anything else. Food has such a great energy about it. Seeing the excitement it puts on peoples faces bringing them together makes my job so worthwhile.
The 5 ingredients every kitchen should have?
Maldon Sea Salt, La Chinata Smoked Paprika, a great extra virgin olive oil, good quality sherry vinegar, a decent wedge of Parmesan cheese.
The 5 utensils every kitchen should have?
A solid whisk, Japanese mandolin, a SHARP knife, a le crueset dutch oven and a decent blender… I have a Vitaprep at home--- spend the money, you wont regret it!

First dish you learned to make?
Lambs Fry – a traditional Aussie breakfast of sautéed lambs liver…. Delicious stuff!

Favorite dish to make at home?
Roast chicken, done well. There is not much better for me. It's so simple yet so satisfying.

What's your favorite food to eat? In other words, what could you live off of for the rest of your life if you had to?
You can't go wrong with good pizza. Finding one can be the hard thing about it though.
Tell us a little more about your restaurant.
Edge is a modern steakhouse on the 7th floor of the Four Seasons Hotel. We have taken the traditional steakhouse and given it a modern twist. On our menu we focus on lighter options from the grill like our 7 oz. Butcher's Filet as well as stand out signature cuts such as the 24 oz. Tomahawk, all broiled at 1800 degrees in our infrared grill. Quality product is extremely important to us, and we have worked very hard to build strong ties with local farms and purveyors to represent a solid farm-to-table philosophy by sourcing local where possible. Good food, done well, you wont be disappointed.
If there's one tip or piece of advice you could give to all aspiring chefs out there, what would it be?
It's all about having a good attitude. Any one can learn to cook, but keeping a positive attitude during those long hot days behind the stove is the real challenge.
What's your favorite holiday dish, and how do you prepare it?
Roast Lamb. I grew up on it every Christmas so roasting a leg here is my little taste of home away from home. I rub it down with extra virgin olive oil, sea salt, garlic, rosemary and a little lemon juice and roast it to a beautiful medium. Served with some lovely roast veggies and home-style pan gravy it is a real treat.