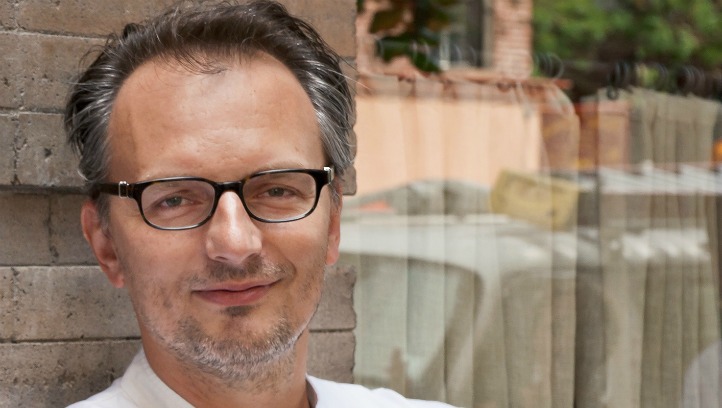 Foodies just want one thing: delicious food that's made well. That's also the type of home Andrew Carmellini, chef owner of The Dutch, was raised in. Andrew's soulful, yet refined cooking style took him to some of the best kitchens in Europe, Asia and America, including stints as chef de cuisine at Daniel Boulud's Café Boulud in Manhattan and Michelin two-starred San Domenico in Emilio-Romagna, Italy. Now he's taken on the Magic City with The Dutch in Miami Beach. He tells us here about his new place and the basics everyone should have in their kitchen.

Most popular item on the menu?

That would definitely be the oyster sliders. People love them as snacks or starters, or they grab a few for a whole meal.
How would you describe South Florida's dining scene?
Evolving, it's so much more diverse than it was 10 years ago. And it just keeps getting better!
The secret to cooking perfect pasta?
The secret is not to over cook the pasta. Also make sure you combine the pasta and sauce together before your serve it.
At what point did you realize you were destined to be a chef?
It wasn't until I went to NYC when I was 19. That's when I really understood what it meant to be a real chef and I knew this is what I wanted to do.
The 5 ingredients every kitchen should have?
Salt, Chili flakes, good Olive Oil, Siracha, and a couple of different good quality vinegars.
The 5 utensils every kitchen should have?
Good knives, good pans, good towels, a good thermometer, and a good large pan to roast things in, like a La Cruset.
First dish you learned to make?
Cookies. It sounds unusual being considered a dish, but they certainly were delicious!
Favorite dish to make at home?
Roast chicken and pasta.

What's your favorite food to eat? In other words, what could you live off of for the rest of your life if you had to?
Pasta! Lots and lots of pasta!
Tell us a little more about your restaurant.
The Dutch is a place to hang out and have a good time. The food is American, which basically means we can cook anything we want and be super bold with the flavors.
If there's one tip or piece of advice you could give to all aspiring chefs out there, what would it be?
Don't stress out. Cooking should be a Zen-like experience. Slow down and enjoy it.