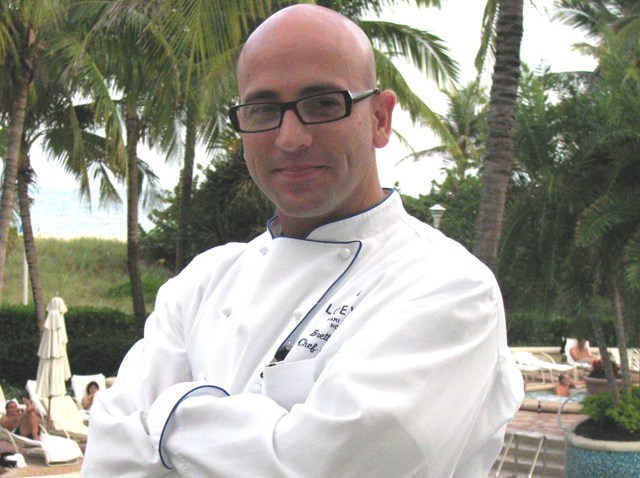 Chef Brett Rayon's story is the classic tale of working from the bottom up. We're not surprised he rose up the ranks at lightning speed, since he's worked with culinary icons such as Michelle Bernstein and Norman Van Aken. Rayon is known for his clever creations and vivid personality, with a particular soft spot for Asian food. Catch Rayon at his regular restaurant gig at the Loew's Hotel, or get a little more intimate with him this Saturday for Dinner in Paradise, a dining event at Paradise Farms in Homestead that features the culinary expertise of a handful of local chefs.
I'm sure all the dishes on each of your menus are like your children, but if you had to choose only one dish from the menu, which ones are you most proud of?
It probably would be the citrus St. Louis ribs, with spicy corn pancakes.
Most popular item on the menu?
The blackened snapper over Creole rice, finished with a coconut curry broth.

How would you describe Miami's dining scene?
I think it's definitely evolved with some new players, so it's given a new credibility. But there are some old schoolers that have been around forever.

The secret to cooking perfect pasta?
Salted, boiling water with some extra virgin olive oil, and cooking it al dente. No pasta should ever be dumped in to ice water.

At what point did you realize you were destined to be a chef?
10 years ago when I became a sous chef at Bamboo, which was the first high-end Asian restaurant. I just loved getting the different ingredients from Japan and other places.

The 5 ingredients every home kitchen should have?
Salt, pepper, olive oil, some balsamic vinegar, and truffles [laughs].

The 5 utensils every home kitchen should have?
A deep fryer, a George Foreman grill, hand mixer, sharp knife, and blender.

Your fondest food-related memory?
When I spent the summer in France. When I was 13, and got to enjoy eating the fresh crawfish, I ate the head, just the whole thing.

First dish you learned to make?
My grandmother's apple pie, easily.

Favorite dish to make at home?
I like to barbecue at the house a lot, so I usually do some nice barbecue sliders and some meats from the nice Argentinean steakhouse close by.
We know you'll be providing the delicious eats at Paradise Farms on December 13tth with all organic foods. Is there a difference in cooking with all organic foods as opposed to not organic?
There's no difference in cooking them, they're the same in that aspect. You just have to make sure they're high in quality, cleanliness, etc., but the technique in the pan/bowl is the same. I feel I have a better connection with these ingredients, however, because I know they're history, I know where they come from, how they're taken care of, etc.
We know you can cook many different styles, but which is your favorite to eat?
I have to say Asian, definitely. What can I say, I'm an Asian food lover.