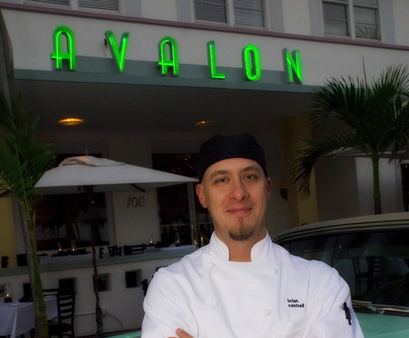 Anyone will tell you, if you can make it in Miami Beach, you can make it anywhere. A Fish Called Avalon, located in the iconic Art Deco building, has been open for over 20 years on Ocean Drive, so they must be doing something right. Who is the man that keeps the A-listers coming in and happy foodies coming out? Executive Chef Brian Cantrell.
Growing up hunting and fishing in the Blue Ridge Mountains near his farm home in Henderson, North Carolina, Cantrell was taught the importance of organic food at an early age. Starting as a dish washer at age 14, he learned the ways around a kitchen first hand.
Eventually graduating from a culinary school in Asheville, he made his way down to south to work at Nemo Restaurant on Miami Beach. Not too long after that, he was stolen away by owner Don Glassie to be come the executive chef at A Fish Called Avalon.
With a philosophy of "what grows together, goes together," Cantrell is passionate about bring the highest quality products possible and exceeding guest expectations using the freshest ingredients possible. The Five Star Diamond Chef took time out of preparing for the South Beach Wine and Food Festival to tell us about his plans for the festival and all about his mouth-watering food.
I'm sure all the dishes on each of your menus are like your children, but if you had to choose only one dish from the menu, which ones are you most proud of?

The Pan-Roasted Florida Grouper with a succotash of sweet corn, lima beans, bacon and asparagus. It is all brought together with our King Crab Remoulade. It is my favorite dish because it really brings out the best in each ingredient and offers layers of flavor.
Most popular item on the menu?

The Grilled Local Mahi Mahi with mashed potato, jumbo lump crab and a pea sprout salad all on an Indian-spiced carrot sauce. It's a fun (and delicious) play on peas and carrots and compliments the fish perfectly.
How would you describe Miami's dining scene?

Very eclectic. The restaurants here are either high-end or fast food, and either iconic or brand new and everything in between seems to be forgotten. The dining scene in Miami is booming right now and a lot of top chefs are scouting the area to bring their biggest and best restaurants to the table. We have been fortunate to be in the business for over 20 years and still have the ability to rise to the reputation of these other renowned chefs and hold our own.

You design your menu according to season. Is there a particular season you look forward to?

Off season — time to breathe! From January to May we are busy, busy, busy, so of course the menu is at its height of options to cater to our local and visiting guests' palates -– which I enjoy because it is very fast-paced in the kitchen. However, I look forward to off season when I have more time to spend with my children.

What is your favorite fish to cook AND eat?

Snook! And no, it's not from The Jersey Shore. Snook are found in the Western Atlantic from South Carolina USA to Brazil, South America and are known to be very powerful and highly sought after. Snook are the most delicious fish — usually there's a season for it but it's on the "no-fishing" list and is prohibited to sell in restaurants in some states.
What "tropical influences" do you bring to your food?

We are locavores…we use all of Florida's freshest, seasonal ingredients including hearts of palm, avocado, mangos, papayas and various citruses.

Does A Fish Called Avalon have any exciting plans for South Beach Wine and Food Festival?

To feed a lot of wine aficionados and foodies great food! We are offering South Beach Wine & Food Festival ticket holders extra privileges when they dine at A Fish Called Avalon. All appetizers will be priced at $9 and all bottles of wine will be $9 off, to commemorate the festival's 9th year of success. When guests arrive they will need to show a ticket stub or receipt from their festival ticket. This will begin on Wednesday, Feb 24th and end on Sunday, Feb 28th.

At what point did you realize you were destined to be a chef?

I used to be a dishwasher at a country club near my hometown and one day had to fill in for a line cook. I had no formal training at all. However, the chef, after seeing my performance that day, complimented me and said that I may have a knack for cooking which quickly became a catalyst for my interest in cooking. I eventually started working the line, found my passion and grew from there.

The 5 ingredients every kitchen should have?

Salt, butter, olive oil, pepper and a competent chef -- simple but essential.

The 5 utensils every kitchen should have?

Spice grinder, spatula/spoon, knife, tongs and a really good pot. I'm not into any of those "cool" machines, it's all basic here. We create amazing food without funny gadgets doing the work.

First dish you learned to make?

When I learned how to make Hollandaise sauce at 15 as a dishwasher in the country club -- I was very impressed with myself.
Favorite dish to make at home?

Bolognaise with my children. My daughter Makenzie tries to help me make it with her apron and chef hat standing on a chair next to me. The first time we made it together we began cutting onions and her eyes starting watering and she said, "Daddy, what is that smell?"

Favorite food-related memory?

Making home-made biscuits with my grandma when I was five years old for family breakfast. I would wake up at 5:30 am to gather eggs from the chicken coop and watch my grandma scramble them with fresh vegetables, but we would make the biscuits together and while they were baking we would churn fresh butter on the porch to spread onto the biscuits. Having these fresh ingredients at my fingertips really played a role in how I cook today.