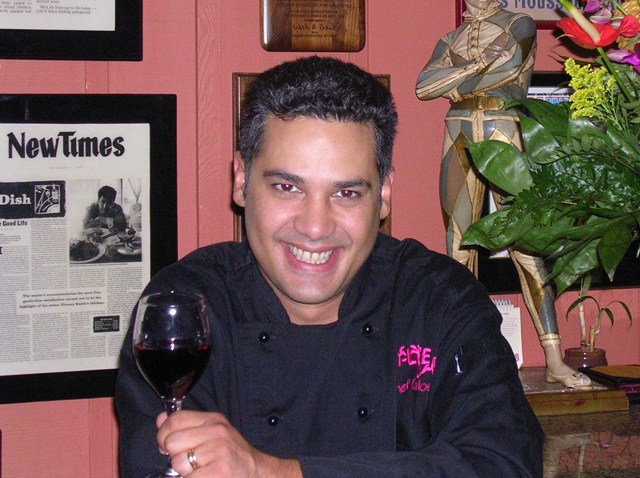 When Chef Carlos Fernandez auditioned for "Top Chef," he didn't know how much it would affect his life (and us foodies) for the better. However, the talented chef was well on his way to a successful culinary career before reality TV came around. Now, the former cheftestant's Zagat-rated "Top 40" favorite restaurant, Hi Life Café, continues to receive praise by both the media and loyal followers. Who could blame them? With Hi Life's diverse menu chock-full of different and exciting flavors, could he be giving abuela's ropa vieja a run for her money?
I'm sure all the dishes on each of your menus are like your children, but if you had to choose one, which ones are you most proud of?
Wow, that's a tough one, they really are all like my children! They're all wonderful, but I'd have to say my latest dish, the pan-seared scallop dish, topped with an orange glaze. The combination of sweet, acid, and glaze is just perfect on that one. The grilled veggies also add a certain taste to it, which is just perfect.
Most popular item on the menu?
The most popular item is easily our Hi-Life salmon. It's a pan seared salmon dish, with a Dijon mustard sauce, sautéed spinach, and roasted bliss potatoes.

At what point did you realize you were destined to be a chef?
There were a lot of little things here and there that contributed to putting me on this path. One instance that came to mind is this paper I had to do in college, which I stayed home from class one day to finish. I went through my mom's cookbook and made a Mexican coffee and chocolate drink, and I just fell in love with making the drink and realized this is something I could really consider as a career path. So it wasn't until college that I realized, you know, I could really make something of this.

The 5 ingredients every home kitchen should have?
That's another toughie. You always need the basics, but food-wise, the exotics I would go with are: eggs, for their versatility; lots of fresh herbs, because you can never use too much; extra virgin olive oil, which is used in practically everything, even though it's 120 calories per tablespoon; of course chocolate, you can't leave that out; and sea salt, because it's a lot of fun to use, though it can be a little expensive.

The 5 utensils every home kitchen should have?
Number one would be a good chef's knife, which can do the work of everything else, next would be good quality pot and pan, you can save a lot of time and effort and trouble with the stickiness of crappy ones. I'm a big fan of induction stove tops, it only heats up the meat, which means you can literally put your hand on it and you won't get burned, great for kids and senior citizens. Next would be a pair of tongs, which would be an extensions of our hands. A food processor obviously, it's like having a thousand hands working for you (tip: use the pulse, it lets you regulate the chunkiness).

Your fondest food-related memory?
To continue with the sushi theme, we had a chef's tasting, and it was one of the most exotic experiences I've ever had. The chef literally took an Ebi shrimp from the tank, still swimming, and chopped it up right in front of me. I remember thinking "Oh my God, this is one of the most exotic experience I've ever had." It was unusual seeing the shrimp's head on the right side of the table and it's body on the other side, still wriggling.

First dish you learned to make?
The first was actually a balsamic vinaigrette, an Italian recipe for salad. What was most exciting was the technique of slowly pouring the balsamic vinaigrette over the fresh fruit and veggies. I fell in love; it was like art to me the way it fell on the salad, just so beautifully put together.

Favorite dish to make at home?
I've been on a health kick lately, so I've been making a kick-ass stir fry with sesame oil, soy sauce, all the fresh veggies I can find, and ground turkey. One teaspoon of sesame oil is enough for 2-3 servings, since it's so potent and strong in flavor.
What was it like being on "Top Chef?"
There were a lot of changes. When I first came back from it, I was exhausted, and seeing myself on TV, I was exhilarated. Of course, when I was kicked off I was angry. It was just an amazing experience because I'm an immigrant [from Cuba], you know, and I'm living the American Dream.
You're probably tired of hearing this, but we have to ask: how has "Top Chef" helped your career?
It's been really incredible, because we already had a small, steady clientele at the restaurant, but were really overlooked before the show. It's really helped my restaurant after the fact, and I've received nothing but positive feedback and praise.

What is your favorite type of food to eat?
Thing is, I love all types of food. But this is an easy one, my mother's camarones enchilados, because she adds lobster to it. It's increible, as my mother would say a lot, and really rich in flavor.