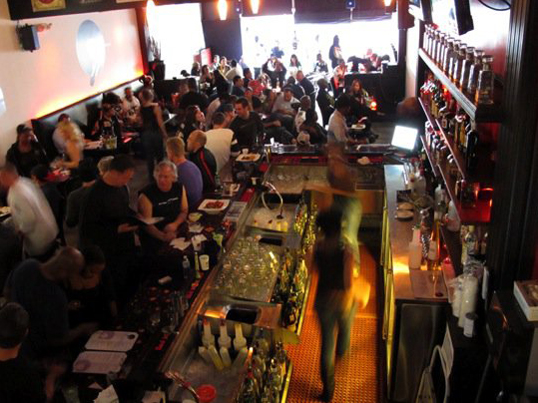 After 18 years in the biz, Chef Joseph Mackillop still can't get a weekend off, and he's not complaining. McKillop brings his talents to the young restaurant and live music venue Vinyl & Kai, featuring fare inspired by New Zealand -- burgers and fries are prepared to order, but Chef's rack of lamb promises to delight.
When he's not grilling until the sun comes up at this late-night establishment, Mackillop follows a low-carb diet, relaxes at low key venues and dreams up his future venture.

What do you do best?
I put 100 percent into all my plates. I'm very big on providing the same quality from open to close. We have a long day. At some restaurants, the quality will drop off at certain point of the day, but not here.
How have Miamians received you?
Very well. We have a following that's growing. We're very popular with locals, regulars and people in the industry. Selling drinks and food till 5 A.M. every day attracts people to want good food late. It's getting the point now where I'll recognize the plates ordered at a certain time and I'll say 'that must be so and so.'
Favorite dish to make?
The mac 'n cheese has to be the most popular item. I enjoy making the mac 'n cheese because it blows people away. When we put the menu together, it was meant to be just one side dish option for the entrees. I brought my mac 'n cheese recipe. A few people loved it and it just blew up.
When did you know you were destined to be a chef?
Probably around the time I was in high school. I was in a restaurant cooking at the time and I was really good at it. It was odd to me at the time. I was probably 17, cooking with guys that were in their 30s and 40s. I had more responsibility than they did, and I did a better job than they did, so I thought I must have been doing something right. I stuck with it. Went to school for it and continued to stay in the industry. It's been 18 years.
What does cooking mean to you?
The biggest joy I get out of cooking is people's reactions. Whether at home or at the restaurant, it's great to make something that people really enjoy. It's getting to the point now where every time I'm invited to a dinner party I'm expected to do all the cooking. I think I might be invited just for that.
Fondest food memory?
This past Thanksgiving, I was asked to prepare dinner for a friend. She was meeting her boyfriend's mom and brother and sisters for the first time, so I helped her out. I made the whole thing. They were really happy.
What's the pressure of cooking in the midst of South Beach?
To keep high quality food. Consumers on the Beach are real fickle. They give you a chance, and if you don't satisfy their needs, they'll leave and they wont come back. There's always something to do, always something trendy here, so the challenge is to keep the food at a high level.
What dish must everyone try?
The rack of lamb. It's seasoned with salt, pepper, garlic, and cumin. It's seared on the grill, then baked off in the oven. It's produced to a nice medium rare that's naturally delicious. It's not beef and it's not gamey. I can't tell you how many times people say, 'I don't eat lamb but I eat yours.' That's really refreshing to hear.

What would your own restaurant look like?
It's going to sound like a good time. There would be montages to Cary Grant and Humphrey Bogart, things like that. I would like it to have dark ambience with oak wood, dimly lit brick décor, and maybe a fireplace. The food would be fresh, flavorful, with a lot of meat and a lot of cheeses.
Craziest thing you've ever eaten?
It took me a long time to try sushi. I'm embarrassed to admit that but once I tried it, I loved it.