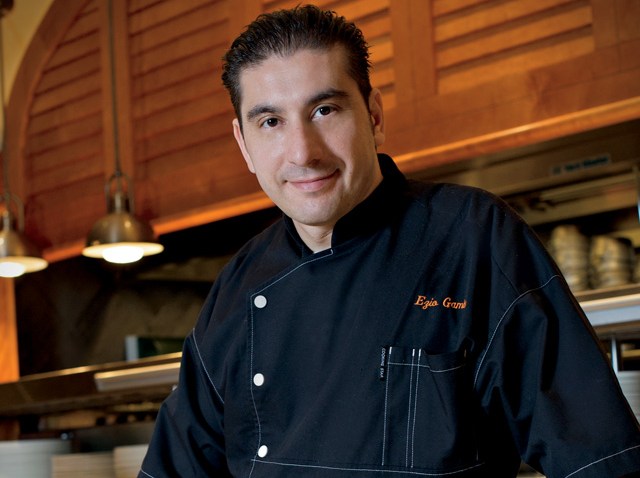 When your name is Ezio Gamba, people probably just expect you to cook "Eat, Pray, Love"-worthy Italian food. Good thing Gamba does just that at Cioppino at the Ritz-Carlton Key Biscayne. Foodies will get a special treat Thursday, October 21, when Gamba serves up the restaurant's White Truffle Dinner, which we think is pretty (deliciously) self-explanitory. Here, the Italian Stallion (we've always wated to say that), talks Bolognese sauce, passion in the kitchen and eating out of a bread basket -- with his hands.

You're from Italy -- why do you think Italian food is so widely loved around the world?
Italian food is simple but tasty, cozy but sophisticated... fits everyone. People in general love the Italian experience because it reminds them of family traditions.

Every dish must be like a child, but if you had to pick your favorite from Cioppino's menu, what would it be?
Growing up, we use to go to my grandmother's house for dinner every Sunday, and I can still smell pasta with Bolognese sauce. Now, anytime I make it reminds me of my childhood.

The most popular dish on the menu?
Definitely my seasonal specials because they are fun and creative. I try to create a different experience every night for our guests, creating meals using seasonal ingredients and playing with my creativity. It seems to work and it's fun!

5 ingredients every kitchen should have?
Creativity, passion, commitment, love for food, great attitude; those for me are the best ingredients you can have in your kitchen. But don't forget the olive oil.

Favorite dish to cook at home?
I love Chinese food and my wife and I like to experiment as much as we can with different recipes. We make soups, fish, vegetables and, most importantly, we try to eat healthy.

Favorite food memory?
Eating Eritrean food in Milan with my best friend. I love to experience different ethnic food and one of my best friends married an Eritrean woman, so we went to Milan to this particular restaurant where you eat out of a bread basket with you hands. Was great -- and spicy.

The 5 guests you would invite to your dream dinner party?
My wife, my mother, my father, Oscar, Enzo and Matteo (my childhood friends). Those are the people that I most enjoy having a conversation with and enjoy having a great dinner.

First dish you learned how to make?
Chocolate budino. When I was young, my mother would let me play in the kitchen with her, so she will give me an armful of ingredients like milk, chocolate and sugar, and I made dessert.. Not bad for a six year old.

If you had to eat one dish for the rest of your life, what would it be?
Pasta. I love pasta. I come from a mountainous region, so pasta, ravioli, risotto is a twice-a-day treat for us and I can't live without it.