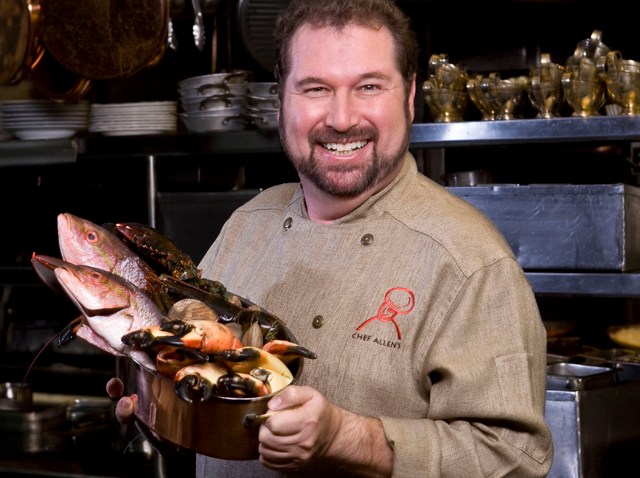 Chef Allen's new world cuisine has been wowing Miami's palate for over two decades and shows no signs of stopping. When French-taught chef and businessman Allen Susser isn't cooking, teaching, traveling, and conjuring up new mango recipes, he is devising new ways to feed our nation's hungry, like Thursday, July 29th's Share Our Strength's Taste of the Nation.
Why has South Florida received you so well? What do you do best?
I think they love my cooking but also love my components of being involved with the community. I really have been involved with a lot of wonderful things and cooked for so many wonderful people.
What is unique about the South Florida dining scene?
We have one of the best in the world. We're a small city but the diversity of our culture here is fantastic. It's a modern city as well. Our history is about 100 years in general. So there's no frequency of notions of what you can and can't do here. 90 percent heat, 90 percent humidity -- that really changes what your body calls for. There are no rules and so many cultures that live under palm trees.
When did cooking become a desire to help feed the hungry?
Years ago, I used to deliver food to the elderly back in Brooklyn with my grandmother. When I opened Chef Allen's I knew I wanted to be part of the community and be connected. "Share our Strength" is an organization that fights childhood hunger. By no fault of their own, children are in poverty and they don't have security. They are our next generation. So helping in that way is so important.
How did you become involved with Taste of the Nation?
Share our Strength does this as an event. I've been doing it for about 23 years here in Miami. We're still here 23 years later. We've raised over $1.5 million in that time period. When you raise a dollar it goes to feed $6 worth of food to a family.
What do you do best?
When I cook I kind of visualize the food. I know what the food is going to taste like by understanding the palate, and knowing the ingredients and how the flavors work together.
When did you know you were destined to be a chef?
I've been cooking since I was a young child in Grandma's kitchen. I didn't know that being a chef was the program but I knew I loved cooking for people. In high school, I was cooking as a summer job, and eventually I realized I had to pick a career. Luckily, I picked something I loved to do.
Fondest food memory?
Going stone crabbing with Julia Childs and then eating them as we cooked them - cracking them shore-side. Julia had a lot of personality and being able to turn her on to stone crabs was just amazing. We became friends over the years and she always liked to know the inner workings of local foods. So she said, "When are we going fishing?"
Any other passions?
I'm kind of a mango nut, especially this time of year when it's hot and steamy. Here we have a wonderful hot bed of mangos and cultures that love mangos. It's not just the fruit itself but the story behind the fruit. I love to use mangos in my cooking. When they're in season I love eating them right out of the tree, but putting them in recipes is a challenge I really enjoy.

If you could feed everyone in South Florida for a day what would you make?
Hard choice. Local sustainable seafood and probably shrimp because it's one of my favorites here. Something like a "shrimp mojito" cooked with garlic, onions and rum, along with orange and tangerine juice. I would serve that with mango macadamia nut rice.
Best advice you could give us novice chefs?
Buy the freshest ingredients. By getting fresh, in season, quality ingredients, you'll get most flavor. As you're cooking, it's important to taste food and think about what your tasting. Think about what the flavors are so that you can balance them. You'll find that you cook 100 percent better when you think about it.