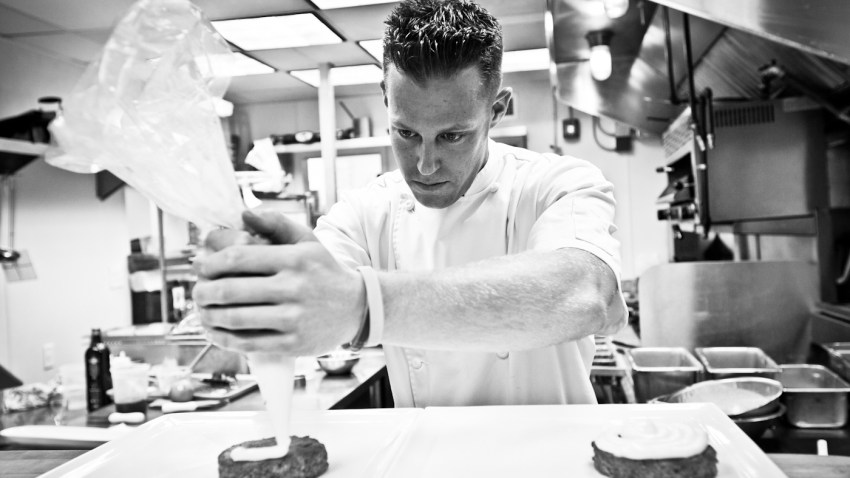 It was a long, dreary night in the kitchen when Chef Andrew Balick—then a pre-dental student at the University of Florida—realized a career change was in order. Though he was stuck scrubbing pans and working the fryer (on his first night, mind you), he fell in love with the environment and knew it was where he needed to be. Now the executive chef for foodie fave Pied a Terre on South Beach, he tells us of his time under renown chef Clay Conley and how far passion, dedication and a little technique can get you in this biz—and anywhere.
I'm sure all the dishes on each of your menus are like your children, but if you had to choose only one dish from the menu, which ones are you most proud of?
That would be our signature appetizer right now. It's reflective of the season being spring. We do a Spring Pea Tortellini, which has Maine lobster and truffle butter that we serve with and crispy shoestring potatoes on top and it's pretty good.


Most popular item on the menu?

Definitely the appetizer, the tortellini is our most popular right now. For the entrees, we get a good split-- we serve a lot of fish, we're more heavily influenced by the seafood being in South Florida. Right now we have a halibut on the menu that we really just can't keep in the drawers. They sell left and right.

How would you describe Miami's dining scene?

I'd say it's pretty diverse. Quite a few steakhouses but aside from that, there's a few local chefs here that I think are doing amazing things and I hope to be held in their regard someday.

The secret to cooking perfect pasta?

Good technique with making the dough yourself. Learning how to do that, learning when the glutens have developed enough in the dough to stop and then let it rest properly. Once it's cut into whatever form you want to make it, the secret is having the water salted properly. The pasta itself doesn't have much flavor; the salt and whatever sauce you add to it is really the driving force behind it. So, as long as you have a good sauce and salt in your water, I think your pasta will be pretty good.
At what point did you realize you were destined to be a chef?

It's hard to pinpoint an exact moment, but my dream was to go to the
University of Florida
and once I got in there, I really didn't think beyond that. Once I was there, I took up my first job in Gainesville cooking in a kitchen and I knew from the first night there—scrubbing pots and pans, working the fryer—I fell in love with the restaurant environment and knew that this is something I could do for the rest of my life.
The 5 ingredients every kitchen should have?

The first two are absolutes: salt and vinegar. To me, they drive flavor behind everything. Other than that, I would say a good olive oil, homemade stocks and fresh herbs. With those five, you can run the gambit of whatever you want to do well.

The 5 utensils every kitchen should have?

We're pretty reliant on our Sous Vie machine. It's pretty remarkable for what it can do for us and can't see myself working the kitchen now without one, so I'd say that's definitely up there. I would also say quality knives—our knives are like our hands and we probably take care of them more than anything else. Quality cookware is a must, like pots and things of that nature to accomplish what you want to accomplish. Lastly, I'd say tons of refrigeration and a convection oven.

First dish you learned to make?

The first dish that I can remember to this day is when I was a kid was making potato latkes (a traditional Jewish dish) with my grandmother in my house during Passover.

Favorite dish to make at home?
I typically don't eat what I cook at work all the time, so when I'm at home I can't pass up chicken wings. I bake mine in the oven, make my own bleu cheese and
Frank's Red Hot
. I can't go wrong with that; nothing puts a smile on my face more than that and watching a Dolphin game or a Gator game, and I'm set with that.
What's your favorite food to eat? In other words, what could you live off of for the rest of your life if you had to?
Good bread. I would say fresh baked bread right out of the oven with some butter. It never gets old.


Tell us about your new restaurant, Pied a Terre. What's it about and why did you choose to take it on?
Pied a Terre is inside the Cadet Hotel, which is on 17th street and James Avenue in Miami Beach. It's very intimate, very small (it's only 10 tables, 30 seats indoors). When you go there, we like to think of it as an extension of our home. We treat you as a houseguest more so than a person that comes in or as a number being served. We're a lot more personalized with our service and the same goes with the food. We're small enough to really take the time with our food and make sure that every plate that leaves the kitchen is up to my standards. And I'd like to think I have pretty high standards. Our menu is also a true reflection of the seasons here in South Florida; we don't dictate the menu by what we feel like cooking that day—the market dictates what we serve that day.
What was it like being mentored by Chef Clay Conley? What was the one thing he taught you that will stick with you throughout your career?
I can't say there's only one thing and I can't say enough about him. There's absolutely no way I would be even close to where I am as a chef today had I not had the opportunity to work with him. He truly refined my pallet and taught me how to cook using seasonings, vinegars, and the proper techniques. He really is a master of his craft and I am ever grateful for the six years I got to work with him.