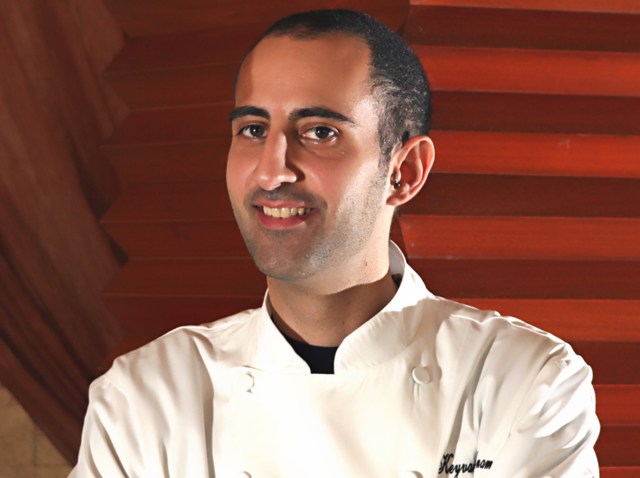 It's easy to find high-end cuisine on South Beach these days. But in 1995, choices were slimmer than the models on the cover of Ocean Drive mag. One of those choices was China Grill, and the restaurant is still a go-to spot for special ocassions and power lunches alike. Here, the man with the knife, Chef Keyvan Behmam, talks grandma's basmati rice, Greece and why his fridge is completely empty right now.

We're sure all the dishes on the menu are like your children, but which are you most proud of?
Tough decision, but if I had to choose one, it would be our Shanghai Lobster dish.

Most popular dish on the menu?
The long time China Grill favorite, Grilled Szechuan Beef.

Best chef advice you've ever gotten?
Are you sure you want to do this?

Five ingredients every kitchen should have?
Good olive oil, fresh garlic, fresh chiles, vinegar, salt and pepper.

Fondest food memory?
When my whole family would get together on Sundays and go out for kabobs.

When did you know you were destined to be a chef?
When I found out I could have all the tattoos I wanted. No really, it was when I first started cooking at 13 in Iran. My parents made me work to earn my own pocket money, so I discovered my passion and love for it at a young age.

If you had to eat one thing for the rest of your life, what would it be?
Very simple. Fresh made pasta, with olive oil, tons of fresh garlic, chiles and fresh parmesan cheese.

Best meal you've ever had?
My grandmother's homemade basmati rice with Iranian stew.

What would we find in your fridge right now?
Nothing, my wife is out of town.

Favorite dish to cook at home?
Pan seared yellowtail with fresh seasonal vegetables.

Favorite place in the world (besides Miami, of course)?
Greece.