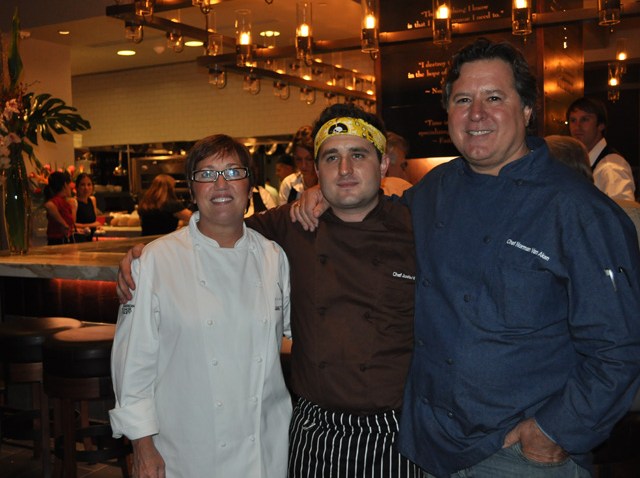 Since the closing of Norman's in Coral Gables back in '07, Chef Norman Van Aken has left a void in the stomachs of many Miamians. For the past few years, only Orlando and Key West eaters got to take advantage of this award-winning chef's fine cuisine. But Van Aken is home now, and he's revamped his renowned "New World Cuisine" at Norman's 180, where he brings anxious eaters "a clear melody" throughout his dishes.
How did you got started in South Florida?
I think I fell in love with South Florida when I was about three. Later, I came to live and work in 1973 and it was out of the blue. The next thing I knew I got a job at a 24-hour BBQ place and I worked the midnight shift. I adored Key West and made it my mission to figure out how to live there. Florida is my adopted state. It's the only place to live. I'm drawn to tropical weather, sunlight -- I love the ingredients of South Florida. I love the mixture of people. The neighborhoods. I love the life. I think when a lot of people think about Florida cooking they think, "well what has Norman done?" so it's shaped my life.
You've been named one of the most influential people in South Florida. Tell us why.
As far as a living artisan craftsman, food is something that people care immensely about, and by speaking to them directly in this language of cuisine that I have developed, I think my message is pretty clear: it's clear in its diversity. Because I am from somewhere else originally I don't feel like I need to be specifically one thing. I can embrace a lot of different people's interests in cuisine. I've had seven restaurants that have become restaurants where people come and talk to me and say 'I got married in your restaurant,' 'I got engaged in your restaurant." These restaurants have become "epics of time" in a person's life.
What's different about Norman's 180?
Norman's 180 allows me to sort of get to a place where I was a long time ago, which was Norman cooking at home. When I started cooking, my ideas were very simple. When I left Coral Gables and South Florida, I began to cook at home again, and in cooking at home again I sort of unplugged the orchestra and plugged in the acoustics.
What does the "farm to table concept" mean to you?
I was brought up near Wisconsin, Illinois. My grandmother ran a dairy farm milking cows. When I got to the point where I got Norman's and was able to make the decisions, it was absolutely a goal of mine to include the farmers. They will tell you that I was letting them have the spotlight because they deserve the spotlight. My grandmother taught me that. Now with [my son] Justin involved, he's pushing books into my hands and reigniting my desire to be representative toward that end. There's been a rejengeration with the new generation in a way that you make food that is easy to produce. You find that you can make really clear food that way.

So what's the story behind the name?
We were thinking about what to call it and we went through all the names that you go through as a young parent. Then it was like, well, the address is 180 Aragon, and I thought how perfect is this? I'm doing a "180." I'm physically coming back from Key West to Miami. I'm doing something stylistically that is a departure from the Norman's model. There was just no better name. Simple.
Fondest food memory?
When Justin was born I was working at restaurant in Key West. The night he was born one of my chefs who was in town came in and helped my sous chef cook that night. I got off work the next day and Janet was still in the hospital. I brought some food, which was a filet mignon with an intense reduction sauce. I went to feed her and she went to eat it and Justin was just nursing. It fell off the fork and dropped on his neck. We thought we killed him, even thought it was cold not warm anymore. There was something about the connection between the three of us; me feeding her so she could feed him was an extraordinary moment.

Was your son destined to be a chef like you?
No. He resisted being a chef. He saw what it took; the hours, the missed holidays and all of that stuff. He thought it was crazy; he didn't want a life like that. But he didn't know he would have a mission within the life. When he saw the opportunity for "farm to table" for what it could mean to have a larger purpose for making food and working long hours like that. Then it was not just simply work, work, work. It was work for a cause. Now, instead of me worrying if he's going to be dedicated it's worrying if he's going to be like his old man and never go home.

When did you know you were destined to be a chef?
It took me a long time, too. I cooked for 7 years before I considered it. People weren't chefs. It was like being a house painter or a plumber. You did it to pay the bills. I was embarrassed to come home smelling like salmon and making $4 an hour. I would say "I'll do better, I'll figure something else out." Then there became a shift around '77. People became considerate about cuisine. I was schooling myself. I did not want to be in another kitchen where young cooks knew more about terminology. It was 1979 in Key West working with some hard core Italians out of Philadelphia that looked at themselves as chefs.
Favorite dish to make?
I always like making something I've never made before. It gives me the most happiness. It could be something so simple. This summer I made brioche hamburger buns and I was so glad that it worked out. It's very seldom anymore that I would make something complicated that would matter to me.
What's the best thing about the life of a chef?
It's changed. When I was young it was a place where I could actually not be hungry where I worked, because I started in factories. When I got a little older, it was where I could meet the waitresses. When I was a little older, it was about the bonding between chefs around the U.S. and the world. I could see they were caring about the same thing that I was. At this age it's more about the fact that I can teach young men and women about how to be better chefs