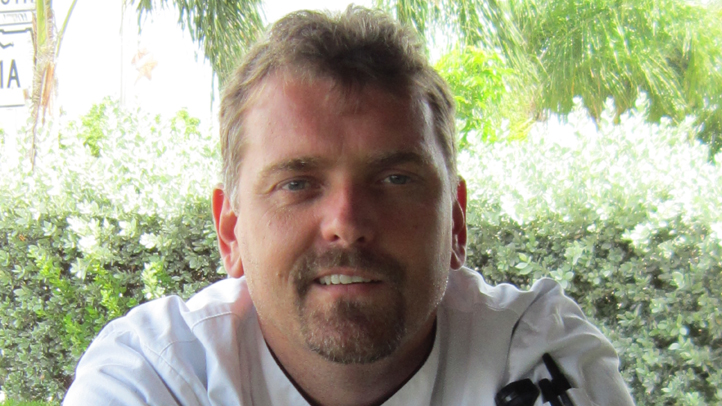 The same guy that gave foodies Gotham City, DeVito Italian Prime Chophouse, and other well-known restaurants is back at it again with a South Beach branch of Palm Beach Italian fave Vic & Angelo's. Restaurateur David Manero tapped executive chef Paul Griffin to helm the brick-lined Ocean drive haunt, where the avid cuisine traveler and experienced chef dishes out 11 ounce meatballs and veal chops alike.
I'm sure all the dishes on each of your menus are like your children, but if you had to choose only one dish from the menu, which ones are you most proud of?
Simple enough: it's the roast chicken. Its brined in a special mix and we air dry the skin to get it crisp. We do a great job with it.

Most popular item on the menu?
Our local black grouper with jumbo lump crab, escarole and white beans seems to be a constant winner.

How would you describe Miami's dining scene?
Miami's dining scene is hot! We get a lot of foodies, even the locals have high expectations. We are constantly booking parties of all sizes and the nationalities and menu requests are always changing.

The secret to cooking perfect pasta?
Don't ice the pasta after cooking, under-cook it and let it cool on a tray so it gets starchy and sticky. It gives the sauce something to stick to.

At what point did you realize you were destined to be a chef?
I was in a small culinary school and every time I cooked it seemed to end up in the faculty lounge. I tried not to let it get to my head.

The 5 ingredients every kitchen should have?
The first two are salt and fresh pepper. You can take the best prime steak or fish but if you don't season it well, it won't taste good. The next three I always look for are a high quality extra virgin olive oil (I love olio verde), fresh garlic, and basil.

The 5 utensils every kitchen should have?
I could name the latest gadgets, but seriously, give me a quality chef knife, a stone, a steel, a cutting board, and a sani bucket -- and watch out!

First dish you learned to make?
I was a line cook fresh out of school and learned how to make vodka cured gravlax from scratch.

Favorite dish to make at home?
Grilled local fish (hopefully I caught it and cooked it poolside) with a little garlic spinach, rosemary potatoes, and lemon.

What's your favorite food to eat? In other words, what could you live off of for the rest of your life if you had to?
You know, I was born on an island in the South Pacific and I have lived in Florida for the last twenty years. Fish, fish and more fish. I follow the Bubba Gump philosophy: I stew, grill, broil, fry, wrap it in seaweed, you name it.
If there's one tip or piece of advice you could give to all aspiring chefs out there, what would it be?
I actually talked to a young chef still in school yesterday at one of our new store openings who thought it would be cool to make purple potato fries. I told him at the beginning don't spend too much time trying to reinvent the food industry, but to focus on classical training and techniques.