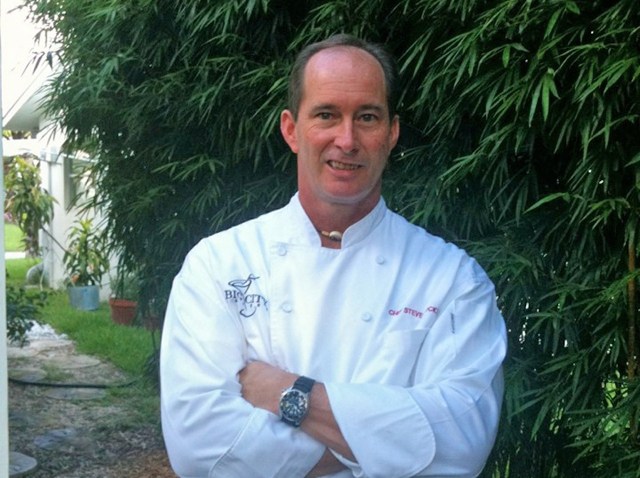 Everything's bigger in Texas, including their flavors. Combine that with the tropical fruits, seafood and Latin and Caribbean spices of Florida and you've got Chef Steve Shockey and Fort Lauderdale's Big City Tavern.
Here, the Lonestar State native talks combining Texas and Florida cuisine, grilling and Ernest Hemingway.

Favorite dish that's a fusion of Florida and Texas?
Mango BBQ swordfish, rock shrimp potato salad and fresh grilled corn. Mango, swordfish and rock shrimp are some of my favorite Florida ingredients, which are combined with BBQ, potato salad and fresh corn -- all Texas staples.

Most popular dish on the menu?
The scallop entree. Jumbo scallops, perfectly seared and served with a primavera risotto and a tomato-sherry nage. The sweetness of the scallops contrast nicely with the slightly tangy sauce.

Biggest difference btwn food scenes/tastes in Florida and Texas?
The dishes in Texas' great food cities -- Dallas, Austin and Houston -- tend to be more straightforward and use locally inspired ingredients, while Florida, particularly South Florida, has such a great diversity of people and cultures that many of those ingredients from those countries find themselves integrated into the food and menus here.

Five ingredients every kitchen should have.
Butter, Crystal's Hot Sauce, garlic, fresh herbs and bacon, lots and lots of bacon.

Favorite dish to cook at home?
My wife Denna's favorite dish -- macadamia nut-crusted hog snapper, sweet mash potatoes, sauteed spinach and pineapple-rum butter.

Favorite food memory?
Growing up on the Texas Gulf Coast, we had access to a lot of great seafood. On special occasions, my parents would invite friends over and have a seafood fest -- piles of boiled and fried shrimp, fresh oysters and BBQ crabs. Everyone would sit around eating, laughing and telling stories, and occasionally someone would break out a guitar for some post-feast music.

First dish you learned how to cook?
Anything on the grill. Because of the hot, humid southeast Texas nights, not to mention the mosquitoes, no one else in the family wanted to do it.

What are you doing when you're not cooking?
My wife and I are on, in or near the water -- kayaking, diving, snorkeling, fishing or just relaxing at the beach with a cold beverage. We love spending time down in the Keys as well.

Strangest habit in the kitchen?
Singing Bob Marley songs (extremely off key) to break up the tension and create some levity when it's busy or stressful.

Your five dream dinner guests?
Emeril Lagasse, Julia Child, Jimmy Buffet, Bruce Springsteen and Ernest Hemmingway, one of my favorite authors. Think of the great food, the great stories and the great music we would have!