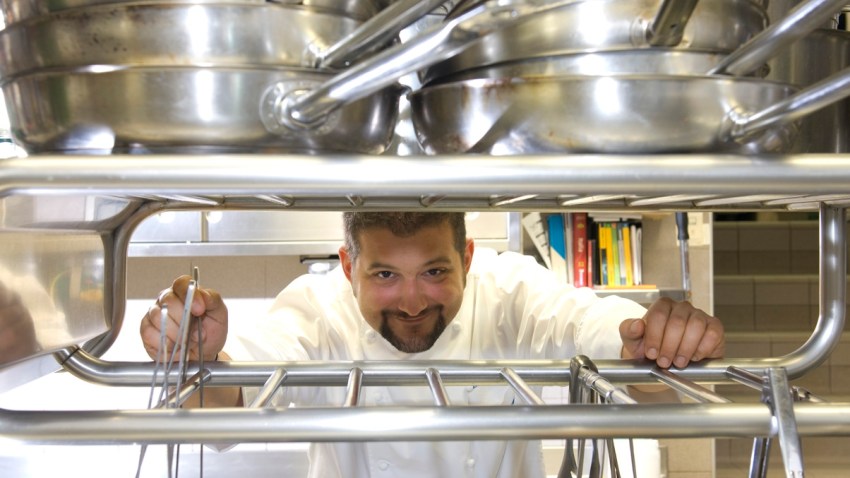 When your parents are the owners of a two-Michelin star restaurant in Italy, Olive Garden just isn't an option. Good thing, then, Andrea Menichetti is manning the kitchen at new Design District spot Vino & Olio, where it's all about sustainable Tuscan cuisine. Here, the food DNA-blessed chef talks fresh ingredients, his grandmother's homemade ragu and Bruce Springsteen.

What dish on the menu are you most proud of?
Tortelli cacio e pere con salsa di barbe rosse.

How does one know when they're eating good, authentic Italian food?
This is a difficult question, because each region in Italy has a different style. The Tuscany Kitchen style is like a light food, cooked with a great olive oil, and very rich with fresh tastes.

The restaurant embraces a farm to table concept. What are some of the ingredients you're using that we can look forward to?
For sure fresh tomatoes, fresh zucchini, fresh basil, amazing beef and very fresh fish and shellfish.

5 ingredients every kitchen should have?
High quality olive oil, basil, tomatoes, red onions, chili peppers.

Bottle of wine everyone should have for a special occasion?
In my opinion, a bottle of champagne.

Favorite dish to cook at home?
Pasta, tomatoes and basil.

Favorite food memory?
My grand mother's handmade pasta with homemade ragu.

The five people you would invite to your dream dinner party?
Julia Roberts, George Clooney, Bruce Springsteen, my family and close friends.

The one dish you could eat for the rest of your life?
My faro profumato with bell pepper sauce and aged ricotta cheese.

Best advice your mom every gave you?
Be yourself, don't imitate.