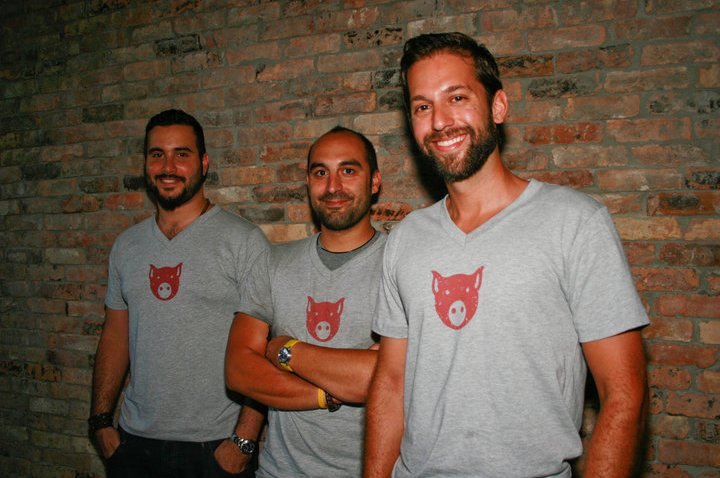 The anticipation almost killed us, but cozy, pork-loving tavern Pubbelly finally opened its doors this week, serving up gastro delights such as potted rilletes, pork belly dumplings and grilled shishito peppers. Here, get to know chefs Chefs José Mendín and Sergio Navarro (La Broche, Nobu, Sushi Samba and Mercadito), who may not win any brownie points with Babe, but definitely will with your appetites.

How would you describe Pubbelly in one word (okay, maybe two)?
Jose: Tavern and personal.
Sergio: Excellent food and excellent atmosphere.

We're sure all the dishes on the menu are like your children, but which are you most proud of?
Jose: Pork Belly Ramen.
Sergio: Every dish made with pork and the desserts.

Best chef/restaurant advice you've ever received?
Jose: Everyone that comes in for dinner must leave happy, no exceptions!
Sergio: Cook with love, and imagine that is you the one sitting outside.

Five ingredients every kitchen should have?
Jose: Maldon sea salt, good spanish olive oil, fresh garlic, fresh herbs and, of course, pork belly :)
Sergio: Spanish olive oil, a good salt, garlic, sugar and pork.

First dish you learned how to make?
Jose: Rice and beans.
Sergio: Cocido madrileno (pork stew from Madrid).

Favorite food memory?
Jose: Going to eat at the best French bistro (La Chaumiere) in Puerto Rico for New Years Eve with my family.
Sergio: Having a tasting menu at La Broche.

Favorite dish to cook at home?
Jose: Spaghetti carbonara.
Sergio: Arroz caldoso.

The five people you'd invite to your dream dinner party?
Jose: Gordon Ramsey, Ferran Adria, Anthony Bourdin, Jorge Mendin (my dad) and Pubelly Boyz (count as one, the one left out will always find away to get in).
Sergio: My wife, Ferran Adria, Martin Brasategui, Daniel Boulud, Arzak and Pubbelly Boys.

If you had to eat one dish for the rest of your life, what would it be?
Jose: Tripleta (a puertican style sandwich made with steak, ham and roasted pork made at a place in Puerto Rico. I've been eaten them since I was 12 years old).
Sergio: My mother's favas and clam stew.

What are you doing when you're not cooking (besides sleeping)?
Jose: Playing with my son, beach, volleyball, pro evolution soccer and watching futbol -- lots of futbol.
Sergio: Watching futbol (soccer), and trying other restaurants.