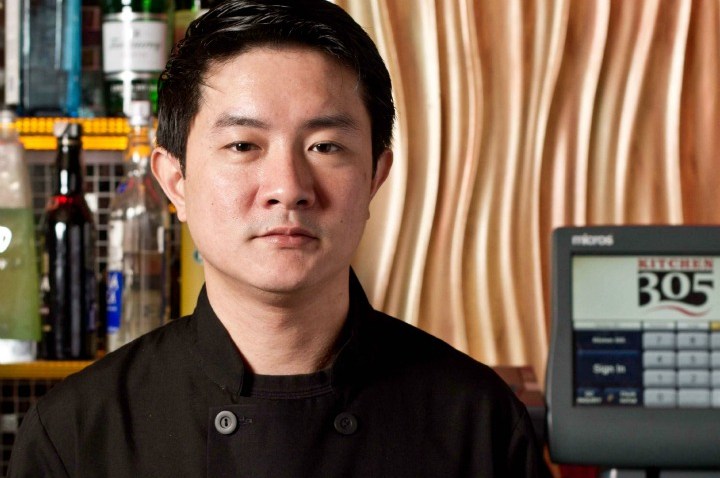 If you could describe Miami's cuisine in one word, what would it be? Would it be "international," or "cosmopolitan?" What about "flavorful," and "unique?" If you said all of these, then you'd be right. And how does Sunny Isles Beach restaurant Kitchen 305 keep up with South Florida's foodie fare? By putting Executive Chef Chris Wong at its helm. His travels to kitchens in Hong Kong and Switzerland have eventually landed him here in South Florida, putting his knowledge of American, Kosher and Asian cuisine to the test. He tells all here of his newest venture.

I'm sure all the dishes on each of your menus are like your children, but if you had to choose only one dish from the menu, which ones are you most proud of?

The sweet chili soy yuzu glazed sea bass is a perfect blend of savory sweetness and smoky spice. The fresh sea bass is marinated in the soy yuzu glaze and grilled to a crispy perfection.
Most popular item on the menu?
The barbecue baby back ribs sell out nightly. Our homemade barbecue sauce is a combination of fresh herbs and spices slathered on tender, fall off the bone baby back ribs.

How would you describe Miami's dining scene?
Miami is the youngest city in the world. The eclectic dining scene is a great reflection of modern and global cuisine.

The secret to cooking perfect pasta?
In life, and in pasta, timing is everything!

At what point did you realize you were destined to be a chef?
One of the most renowned professors in my program gave me the highest score a student had ever earned on a tough cooking exam. I knew that if I could please his discerning palette, I could satisfy restaurant patrons.

The 5 ingredients every kitchen should have?
Water, salt, pepper, sugar and garlic.


The 5 utensils every kitchen should have?
Sautee pan, tongs, spoon, mixer, and a spatula.


First dish you learned to make?
Shanghai Pork Spring Roll.

Favorite dish to make at home?
Hong Kong-style hot pot.

What's your favorite food to eat? In other words, what could you live off of for the rest of your life if you had to?
Any type of fresh seafood.

Tell us a little more about your restaurant.
Located in the lobby of the Newport Beachside Hotel & Resort, Kitchen 305 offers an exciting dining experience where creative plating techniques showcase American-eclectic fare at its best.
If there's one tip or piece of advice you could give to all aspiring chefs out there, what would it be?
Work hard and smart--- commit to what you are doing and give everything a 100 percent effort.