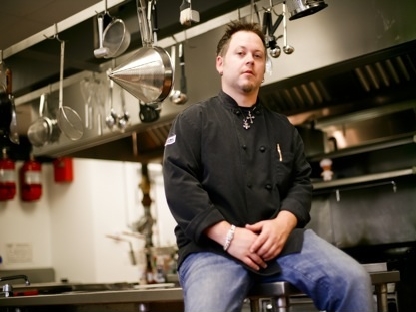 Chef David Whyko has cooked for both Denzel Washington and Nicole Kidman and many more A-list celebrities. The chef of DELISHE, a made-to-order exclusive food service that delivers delicious and nutritious food to homes in Miami, has a pretty impressive resumé. Chef Whyko not only travels on the road with rock star Lenny Kravitz, but is the founder and executive chef of his brainchild DELISHE. The unique culinary experience evokes passion and love through great tasting food made with great quality food and seasonal products directly to your doorstep. With many of us not having time to cook for ourselves, his gourmet meal delivery is not only a reasonable alternative but ridiculously delicious. Known to celebrities as the "Rock & Roll Chef," Whyko sat down with us to tell us about his creative cooking and exactly what it's like to cook for rock stars.
If you had to choose only one dish from your arsenal, which ones are you most proud of?
Everyday I am inspired and proud of the evolution of DELISHE. There are, however, a few dishes that I like to call my hits. Eggplant Napoleon with grilled vegetables and portobella mushrooms with fresh mozzarella and a fresh Delishe tomato basil sauce.
Most popular dish?
I have been doing a jumbo bbq shrimp with corn-laced polenta and finely chopped scallion with one of my favorite vegetable which is called aspiration.
How would you describe Miami's dining scene?
There have been an influx of some really great chefs which have changed the dining scene. I am especially excited for my friend Bjorn Weissgerber to come to Miami.
You have traveled and cooked at home for Lenny Kravitz. What has that been like?
Can you dedicate this whole print towards my comments? Traveling the world on private jets, bullet trains, and pimped-out tour buses. Staying at the best and sexiest hotels, cooking in their boutique kitchen, or classic European brigade while making great friendships with the chefs in command. It taught me to be innovative and work on the fly. I've had to please a lot of discerning palates. Lenny has always been a dear friend and I'm grateful for the opportunity.
What is Mr. Kravitz' favorite thing for you to make him?
Lenny loves to stay in great shape but loves soul food. I make a mean short rib, truffled mac 'n cheese, Nawlins-style po-boys and chocolate decadent desserts with ice cold vanilla bean ice cream.

You have obviously traveled a lot. What part of the world has inspired your most?
Sienna, Italy -- it is the ultimate spot for a chef.
Your focus is to create healthy cuisine without sacrificing flavor. What are a few of your secrets so we can make our food a little healthier too?
Marinades, grilling and fresh ingredients. Cooking takes time and passion. Know what you like and play around with it. That is why I have so much fun. Food is my passion and easily translated into art.

At what point did you realize you were destined to be a chef?
Twelve years old. I got a call from a friend that needed help washing dishes. I went and worked hard. I also looked up to my cool Uncle Andy who was a grad from the Culinary Institute of Art (where I later went).

The 5 ingredients every kitchen should have?
Great extra virgin, cold pressed, and cloudy green olive oil; kosher salt and pepper (white or black fresh ground); fresh garlic; fresh herbs; white and red wine; unsalted butter.

The 5 utensils every kitchen should have?
A great shun cleave, a 2 ounce ladle, a rubber spatula, a sheet pan, and a good galvanized pot.

First dish you learned to make?
Pasta fagiole, BLTs or french toast, pancakes or scrambled eggs, something along those lines.

Favorite dish to make at home?
A super salad with fresh crispy greens and everything else that I have in my fridge, maybe some toasted nuts and goat cheese and some warm juicy and crispy meat, confit!!!!

Favorite food-related memory?
My Nonnie! My Italian grandma showing me her love for food in making sure I was content and all that she introduced me to. And always followed by coffee, biscotti, pizza frit with powdered sugar, Torrone or Italian pastries including Cannolli.