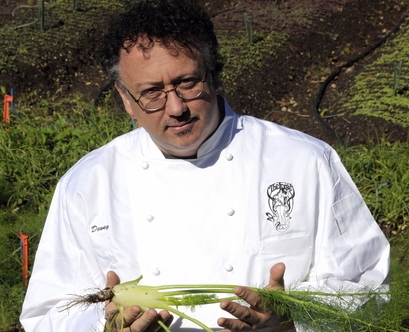 When a significant other tells you they want to "take a break," that usually means they're gone for good. About a year a go, The Forge on Miami Beach closed its doors forever and no one really knew why. They said it was just to revamp the place, but most suspected the restaurant was another victim of the bad economy.
How nice it is to be wrong.
Miami legend Shareef Malnik reopened the doors of the famed restaurant and wine bar this week to great reviews. The 40-year-old Forge has had a total facelift with over $10 million dollars in renovations, transforming everything from the decor to the exterior of the building. One change that we can definitely stand behind: their new chef.
Executive chef Dewey LoSasso has been brought in to go with the flow of change and completely turn up the heat on The Forge's menu. The award-winning chef sat down with us to tell us exactly what we can expect from the new hot spot, and what it's like to cook for Donatella Versace.
If you had to choose only one dish from the menu, which ones are you most proud of?
Florida Snapper in a Bag.

We know The Forge just reopened, but what do you think will be the most popular item on the menu?
Lobster peanut butter and jelly.

How would you describe Miami's dining scene now compared to when you arrived in the '80s?
In the '80s , you needed to really search out great restaurants. Now, it has exploded. Also, in the late '80s I tried my hand at farming with Micky Wolfson – now , the farming industry is amazing.

You spent a few summers in the kitchen on the Jersey shore. We have to know, what are your thoughts on the show?
Never saw it, actually. But, going to high school down there was way fun.

You were once Donatella Versace's personal chef. What were a few things she loved for you to cook up?
Chicken cutlet sandwiches to go for the beach, local fish.

What can we expect from the NEW Forge?
Local ingredient focus with a farm and ocean to table attitude. I am expanding on their heritage of taking care of the guest and their employees.

At what point did you realize you were destined to be a chef?
13 years old – I was a dishwasher, part of my job was to peel two quarts of garlic a day. I would take the garlic home with me, then I would have more time to help and watch the cooks.

The 5 ingredients every kitchen should have?
Fresh herbs
Local fish
Good sound system during prep
Great steaks
Great Tuscan Olive Oil
The 5 utensils every kitchen should have?
Chef's knife
Mandolin
Tasting spoons (to taste the food!)
Good tongs
Wood-burning grill
First dish you learned to make?
Chicken Francaise.

Favorite dish to make at home?
Roast Chicken with herbs and lemon.

Favorite food-related memory?
Playing with pizza dough, next to my dad, when I was 7. He was making dinner for 30 people in our second kitchen.