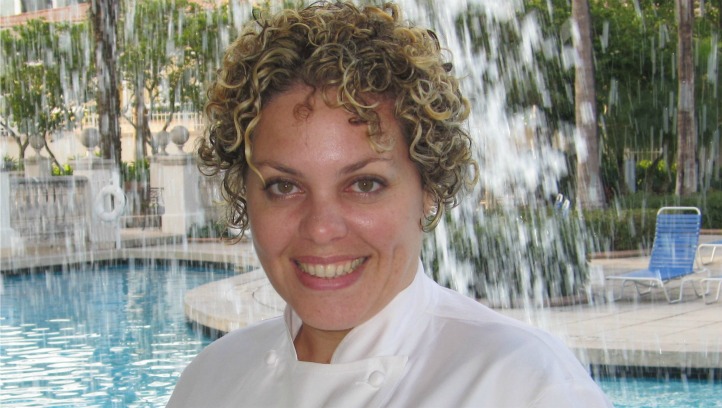 It's sound advice given in the business world: a business is often best understood when you've worked all facets of it. Mesazul's Elisa Valderrama has done just that-- from waitress and hostess as a teenager to now executive chef at Doral Golf Resort and Spa's Latin-infused American steakhouse. It all started in her home country of Peru, taking inventory of her family's pantry and opting to play with kitchen tools in lieu of Barbies. With her inventive cuisine and impeccable execution, she's built quite a following among downtown Miami and Coral Gables diners while running her own restaurant, Mama Lila's Bistro, from 2003 to 2008. She tells us here about what she's up to at the restaurant, and gives her own advice to those looking to make a career out of being in the kitchen.
I'm sure all the dishes on each of your menus are like your children, but if you had to choose only one dish from the menu, which ones are you most proud of?
The Ceviche Trio, which comes with Sea bass Ceviche, Shrimp Ceviche, and Mushroom and Avocado Ceviche. We make it fresh to order, and it involves three different sets of garnishes. I'm also proud of my cooks who make it lovingly every day.

Most popular item on the menu?
Our most popular entrée is the New Age Lechon Asado, with "Tacu Tacu," a Peruvian bean and rice cake, topped with pork tenderloin and braised pork shoulder, garnished with a cilantro onion slaw and a plantain "Aranita." Our most popular steak is the Bone-in Filet Mignon, its butter, and as for sides we can't seem to make enough of our Truffled Mac and Cheese.

How would you describe Miami's dining scene?
Eclectic. You have amazing restaurants with serious chefs who are inspired by our very diverse community; they create amazing food influenced by international cuisines. But you also have ethnic mom and pop restaurants which put out some equally delicious food, every bite fully-loaded with dedication and cultural pride.

The secret to cooking perfect pasta?
I think there are few culinary secrets left out there, unless you're a cave dweller and don't get the Food Channel. I undercook it in water to finish cooking it in the sauce, so it absorbs more flavor.
At what point did you realize you were destined to be a chef?
Since I was a child when I fried my first egg at 7 years of age. I burnt it but still ate it. Back then all we had was Julia Childs, The Frugal Gourmet, and Great Chefs of the World; and as a kid I would lock myself up in the guest bathroom and pretend to cook in the sink with my mom's hand lotions and potpourri. She wasn't my biggest fan then.


The 5 ingredients every kitchen should have?
Butter, garlic, shallots, chicken stock, and cream.
The 5 utensils every kitchen should have?
Sharp knife, tongs, a food processor, a rubber spatula, and a fine mesh strainer.

First dish you learned to make?
First dish I ever made was Garbanzo beans and white rice at 12 years old. My mom left me the instructions written down so she could go to a luncheon and my dad would have hot food on the table when he came home. The first dish I made on my own was Alice Medrich's flourless chocolate cake, something I still make it today.


Favorite dish to make at home?
I rarely cook at home because there is no one to clean up for me. I know, it's terrible. But when I do feel like cooking, I make a chicken soup with goat cheese and chive gnocchis. I only use one soup pot!

What's your favorite food to eat? In other words, what could you live off of for the rest of your life if you had to?
Eggs over medium, white rice, fried sweet plantains, and some creamy, ripe avocado seasoned with salt and freshly ground pepper. You mix it all together and call it "Poor Man's Risotto."


Tell us a little more about your restaurant.
We are a Latin-inspired steak house situated in a lush, sprawling world class golf resort. The quality of our steaks continues to awe our guests, and our sunset views over the golf course are second to none. I'm also in charge of Bossa Nova Lounge, where you can enjoy our fresh tapas and raw bar while listening to live music every day. It's a beautiful place to work.
If there's one tip or piece of advice you could give to all aspiring chefs out there, what would it be?
To stay curious and always try new things. To taste everything, smell everything. To be open to new ideas and techniques, but also respect traditions that work. And to not be stingy, to share knowledge, and be generous with your passion and recipes.