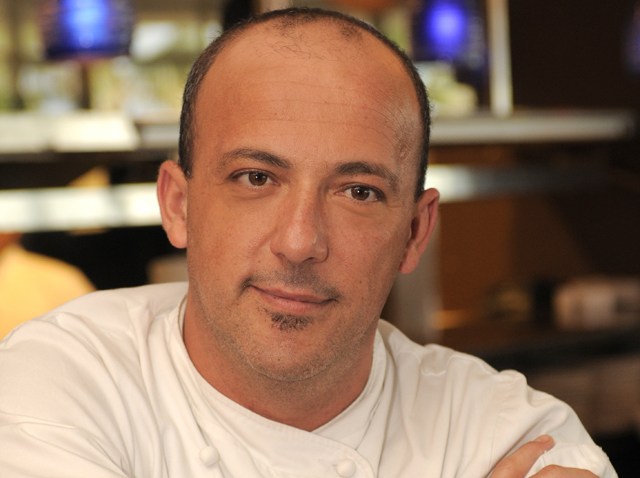 There's nothing foodies love more than exotic tastes, and no one brings it better than Chef Farid Oualidi of upscale Trina Restaurant in Fort Lauderdale. Here, the Moroccan chef dishes about sea urchin memories, vodka in the kitchen and his love for good old fashioned spaghetti. Grab a fork and dig in.
I'm sure all the dishes on each of your menus are like your children, but if you had to choose only one dish from the menu, which ones are you most proud of?
Oh, they're indeed precious to me. The Bouillabaisse, easily. It's a mixture of seafood and vegetables, it's got everything.
Most popular item on the menu?
The lobster and scallop Risotto, for sure. .

The secret to cooking perfect pasta?
Plenty of salted water, and never run pasta under cool water to cool off. In other words, don't rinse it. Another very important key point: don't overcook it.

At what point did you realize you were destined to be a chef?
Ha! I don't consider myself a chef. I cooked for a party of 12 people for a friend of mine years ago. I made lobster fra diazolo, which is a devil sauce. It was the best dish I ever made, or at least it was my first successful dish. From then on, I realized I wanted to be a chef.

The 5 ingredients every home kitchen should have?
Vodka, vodka, vodka [laughs]! Just kidding. Good extra virgin olive oil, kosher salt, chicken stock or broth, a lot of fresh herbs, and garlic.

The 5 utensils every home kitchen should have?
A glass for each drink [laughs]! A sharp chef's knife, a pair of sheers, good sautéed pan, a large stockpot, and a strainer.

What is your fondest food-related memory?
Having my first sea urchin out of the water back home on Oualidia Beach in Morocco, I will never forget that day.

First dish you learned to make?
Bread, but that's not a dish. I would say my first official dish was risotto.

Favorite dish to make at home?
Spaghetti with extra virgin olive oil and slightly fried garlic. It's simple food that's the best.
We know you studied in New York, but has your Moroccan heritage played a role in your culinary training and/or career?
Lately it has, since I joined Trina. I've been trying to dig into my roots more and more, and that has helped a lot here in creating new menu items.
You volunteer with "Chefs for the Homeless." What's the most fullfulling aspect of doing so?
Just giving something back to the community. It's a great thing to lend my time and talents to such a great organization, and it feels great. Broward has welcomed me, and I figure I should give something back.
What is your favorite food to eat?
When somebody cooks for me [laughs]! Mediterranean and fresh seafood would be my favorite and would always be, but I love food in general; with my job you have to.