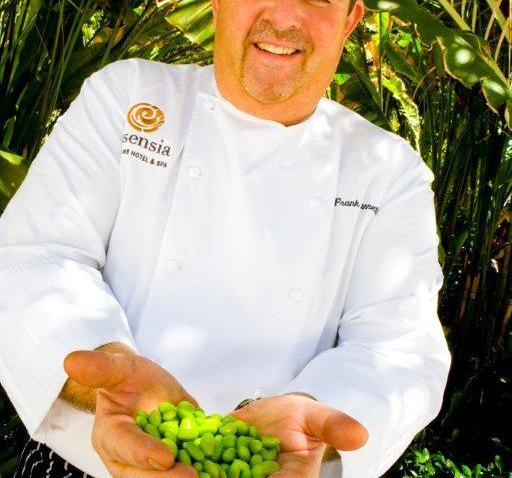 Why fight your destiny? Before hitting the kitchens of Pacific Time and the Biltmore (among others), Frank Jeannetti hit the trade floors of Wall Street. When that went south, he packed up his bags and was off to culinary school with a little push from his father, who owned an Irish pub for years. He worked with culinary masters such as Daniel Bouloud and Jonathan Eismann before making his way to the MIA. Now the executive chef of Essensia at the Palms Hotel, he embodies the motto the swanky hotel restaurant lives by: great, organic, home-grown food with a menu that changes with the seasons. He tells us here about the restaurant, the philosophy and the things you'll find in his kitchen (aspiring chefs: take notes).
I'm sure all the dishes on each of your menus are like your children, but if you had to choose only one dish from the menu, which ones are you most proud of?
Well, if I must pick two, I would pick the szechuan spiced beef salad and the rice flour dusted Florida yellowtail snapper because they exemplify Essensia's culinary concept (local, fresh, seasonal ingredients) perfected with my love for Asian cuisine.
Most popular item on the menu?
It's a tie between the braised short ribs & the Florida yellowtail snapper.
How would you describe Miami's dining scene?
Miami has a dynamic culinary scene. Several truly talented chefs have made Miami home bringing with them multiple dining concepts. And of course, our local chefs have always defined and cultivated Miami's food scene to be unique, flavorful, and bold.
The secret to cooking perfect steak?
The quality of meat is key! I prefer grass-fed aged beef. After grilling, give the beef a few minutes before serving/cutting. This will allow the beef to retain its natural juices.
At what point did you realize you were destined to be a chef?
Looking back, there were a few defining moments that led me to my career. Two that always stand out were my time as a butcher in New York and the time I spent in the kitchen with my amazing mom. Those memories have inspired me to forge forward with my craft.
The 5 ingredients every kitchen should have?
Kosher salt, ground white pepper, extra virgin olive oil, garlic and heirloom tomatoes.
The 5 utensils every kitchen should have?
Non-stick teflon sautee pan, black cast iron skillet, medium sauce pot, tongs and food processor.
First dish you learned to make?
Italian Sunday gravy served with rigatoni.
Favorite dish to make at home?
Grilled angus grass-fed beef tenderloin, truffle risotto and grilled portobello mushrooms.
What's your favorite food to eat? In other words, what could you live off of for the rest of your life if you had to?
The other white meat! I love all types of dishes that use naturally grown pork.
Tell us a little more about your restaurant.
Essensia's menu is based on the concept of "natural gourmet dining." We serve gourmet cuisine made with high-quality, local, organic, sustainable and seasonal ingredients combined to create light dishes that are bursting with natural flavor. Essensia's cuisine offers diners dishes that are good for the body and the environment.
If there's one tip or piece of advice you could give to all aspiring chefs out there, what would it be?
Listen and observe. Absorb as much knowledge, technique and instruction as you can. Sooner or later, you will be ready to experiment with new ideas and ingredients.