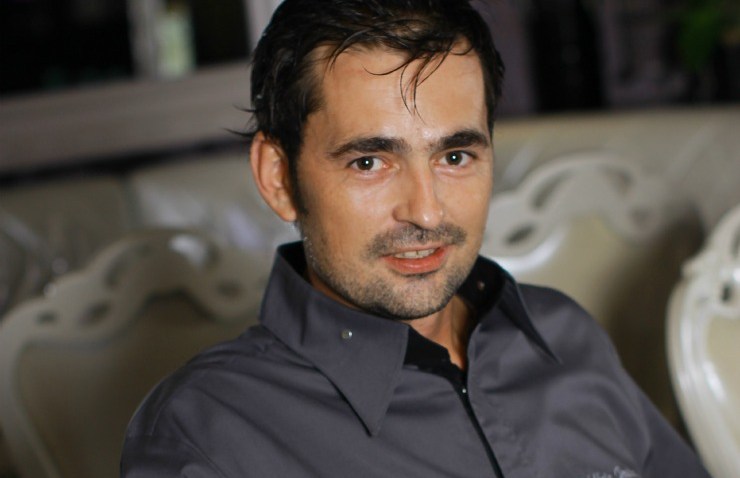 Normal 0 false false false EN-US X-NONE X-NONE Where do you go once you've served as personal chef to the president of France? For Executive Chef Frederic Joulin, you come to South Florida. The Michelin-starred chef, who's worked under foodie heavyweight Guy Savoy, has taken his talents to Coconut Grove to head up the kitchen of Villa Mayfair, where the Cheesecake Factory once stood. Joulin, who once opened his own restaurant in Paris at 25, gives the menu a Mediterranean feel with French, Italian and Spanish influences. He dishes here about his journey to South Florida and gives a little insight on his life in France.
I'm sure all the dishes on each of your menus are like your children, but if you had to choose only one dish from the menu, which ones are you most proud of?
The artichoke soup with black truffle and parmesan reggiano. My mother actually taught me this recipe when I was 6 or 7 years old. Over the years I've experimented with it under Guy Savoy....and I've modified it as it appears here at Villa Mayfair.
Most popular item on the menu?
The Alaskan King Crab Cannelloni. This dish is an Italian innovation in that I replaced the typical lasagna wrapping instead with Daikon--- so there's vegetables instead of pasta. I also use local ingredients in this recipe so we combine Florida in with Europe.

How would you describe Miami's dining scene?
Over the last three years I see it's definitely getting better. Miami is a city where you should be; it's not quite New York or other American cities yet. I enjoy Miami because there are truly authentic cuisine options from all over the world, as well as brilliant chefs that bring talent and personalities from many countries as well.

The secret to cooking perfect pasta?
WATER---lots of it! When you're pot is too small the temperature drops too quickly when you add the pasta. Don't be afraid to use a large pot.
At what point did you realize you were destined to be a chef?
In France. I was 13 years old, and we had to choose a three-week "experience" (like an internship) and I chose a restaurant. No one really understood this choice for me. When I was finished with this "internship," the chef told my parents that he wanted to keep me full time because it came naturally to me...my parents were mad of course because finishing school was most important. Then at 17 I chose a more hands-on culinary school. After my BACC, Jean Claude Ferrero took me into his restaurant- I did every position-and for two years he acted as my mentor. From there it was clear where my passion was and still is.
The 5 ingredients every kitchen should have?
Olive Oil, basil, garlic, tomatoes and fleur de sel. With these things you can make anything taste delicious.
The 5 utensils every kitchen should have?
Hand mixer, digital timer, measuring cups, knives and cast iron skillet.

First dish you learned to make?
In France, Sunday lunch is a big tradition--where your grandparents, cousins, everyone- joins for lunch. When I was 11, I prepared roasted chicken in rosemary juice with potatoes.

Favorite dish to make at home?
A 26-ounce ribeye for two with Pommes Darphin (Pommes Darphins are like hashed browns).
What's your favorite food to eat? In other words, what could you live off of for the rest of your life if you had to?
This is an impossible question to answer, but if I had to, I'd choose Terrine de Canard (Duck Pate)...and cornichons.
Tell us a little more about your restaurant.
The cuisine is a modern Mediterranean cuisine with American influence, and of course French touches. It brings you the flavors of the Mediterranean Sea in a sophisticated setting that is still as welcoming as entering someone's home, or villa in the South of France. It's intended to be comfortable but still a bit indulgent at the same time.
If there's one tip or piece of advice you could give to all aspiring chefs out there, what would it be?
You have to work hard but also LOVE the atmosphere of a kitchen brigade. In my experience, I've also learned you have to give first in order to receive.
Every working chef should always keep his/her imagination bright, positive attitude and true passion strong. I think I learned this by working with many very well respected people who taught me the difference between good and very good.