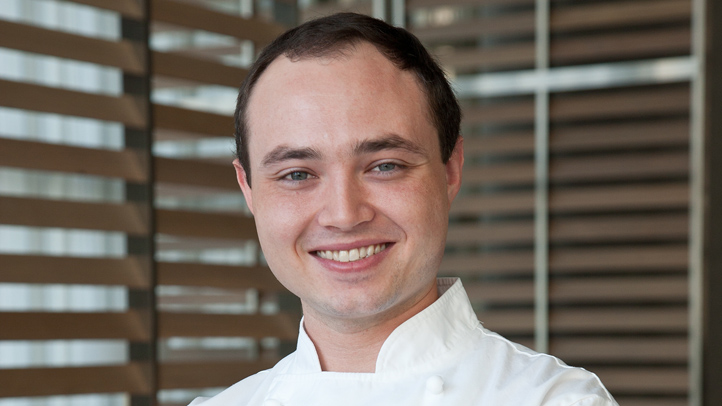 Some chefs don't answer the call to the kitchen until later in life. Others simply know from the start. For Chef Jarrod Verbiak, it was the latter. Verbiak got his start at the tender age of 16, before ever leaving his hometown in Ohio. A few years later, he was handpicked by famed culinarian Daniel Bouloud, who took him around the world and cooked with him in places we could only dream of. Eight years under Bouloud's wing led him straight to his current post at DB Bistro Moderne, right here in the JW Marriott Marquis Miami—and he's dishing (pun intended) all about his new digs.
I'm sure all the dishes on each of your menus are like your children, but if you had to choose only one dish from the menu, which ones are you most proud of?
Hands down, it's my "Croque Senor." I created it in Miami, for Miami, but kept some of the French tradition behind the classic Croque. It's a decadent layering of house made mojo-roasted pork, French ham, Gruyère cheese, and spicy home-made pickles all on sliced pain de mie bread. The French accent is in the layer of Bechamel that holds it all together so deliciously, but when you take a bite, the Cuban note is unmistakable in the spicy mustard.
Most popular item on the menu?
Escargots Persillade with Wild Burgundy Snails, Garlic, Parsley and Potato Croquettes. Few dishes are more strongly identified with French bistro cooking. This version stands out for the quality of wild snails sourced in Burgundy. We make it our own with wonderfully crisp potato croquettes, but you still get the satisfying traditional flavor of the garlic persillade. We all know most people order escargots for the sauce.
How would you describe Miami's dining scene?
The truth is I haven't had many nights out of the kitchen to try as many places as I'd like. I'm waiting for you to take me out on the town. When I do get out, I'm always impressed by the sophisticated palate Miami chefs are cooking for.
The secret to cooking perfect pasta?
There are so many varieties, but what holds true for all of them is what I call the "liaison". In other words, you have to get the pasta coasted just right. That means not too saucy, but also not too dry.
At what point did you realize you were destined to be a chef?
I was interested in cooking from an early age. But it was the spirit of camaraderie in the first kitchen I worked in – back home in Medina, Ohio – that told me I was on the right track. I was 15 years old and already knew I liked the team work in the kitchen.
The 5 ingredients every kitchen should have?
I'll assume your pantry has the basics like salt, pepper, flour and sugar. Then what you need are extra virgin olive oil, butter, onions, thyme and piment d'espelette. That last one may be unexpected but adds dimension. It's a slightly smoky, but not too spicy chili from South Western France
The 5 utensils every kitchen should have?
Chef's knife – always well sharpened
Cutting board – I prefer wood
Wooden spoon – you may have to replace it once in a while
Cast Iron skillet – in a pinch it doubles as a roasting pan
Sauce pan, with high straight sides - I'd like to have a copper one myself. Are you listening Santa?

First dish you learned to make?
At home: scrambled eggs as soon as I could reach the stove, standing on a stool.
At work in my first professional kitchen: a rustic potato and ham soup, and still one of the most satisfying dishes I've ever had on a snowy Ohio afternoon.
Favorite dish to make at home?
My wife taught me how to make a refreshing Chinese-style cucumber salad, dressed with spicy chili oil, black rice vinegar and fresh cilantro. It's been our go to dish ever since we got together.
What's your favorite food to eat? In other words, what could you live off of for the rest of your life if you had to?
Eggs, the potential variety of dishes and techniques is infinite.
Tell us a little more about your restaurant, db Bistro Moderne.
The top ten things I want you to know:
1. Lobster roll at the sandwich bar.
2. Towering shellfish platter and some chilled Riesling on the terrace with friends.
3. The ultimate "DB Burger," our French-American version famous for its red wine braised short rib filling.
4. At lunch: a heaping main course niçoise salad, with tuna confit, haricot verts, tomato, egg mimosa and Herbs de Provence dressing.
5. After work, but before the sun goes down and with a view of the Bay: "Grapefruit Blossom" cocktail with a touch of Elderflower liqueur.
6. Sommelier John Mayfield's wine dinners that travel the globe. Next stop: Bordeaux's Château Gruaud Larose.
7. My house made pâté de champagne: a mosaic of pork and mushrooms with a spicy black pepper crust and Dijon-shallot marmalade.
8. The heart and soul of a bistro is a good duck confit. Ours is crispy on the outside, mouth wateringly tender and moist inside.
9. Miami loves a good steak and so do we. Our prime New York sirloin is grilled à la plancha and served with crispy pommes pont neuf and sauce Bearnaise.
10. Warm madeleines, light, lemony and served right out of the oven with dessert.
If there's one tip or piece of advice you could give to all aspiring chefs out there, what would it be?
Remain humble. Take notes constantly and record every dish and flavor.