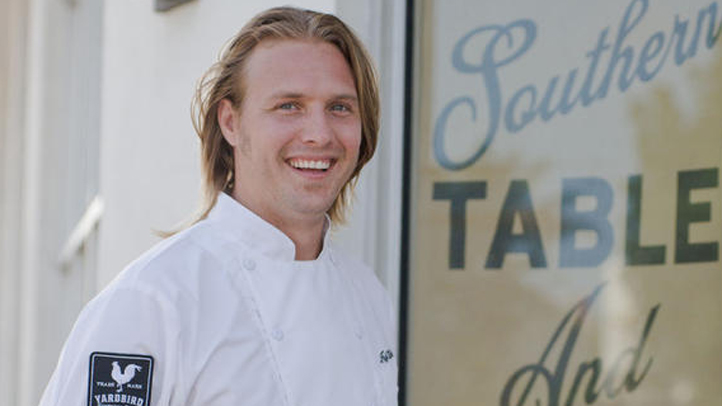 Good ol' Southern Hospitality comes to South Beach in the form of Yardbird Southern Table and Bar with Top Chef Cheftestant and Executive Chef Jeff McInnis at the helm. A first-hand witness to real farm and table cooking, the Florida-born chef places all importance on delicious food and impeccable service. But he's no stranger to Miami -- following his stint on Top Chef, he became the point man at the popular restaurant Gigi, using his signature culinary style to catapult to the top of the Miami foodies list. He tells us here about his take on the cuisine scene, his mentor and his love for a certain southern dish.
I'm sure all the dishes on each of your menus are like your children, but if you had to choose only one dish from the menu, which one are you most proud of?
I would have to say the fried chicken. Our Llewellyn's fine fried chicken recipe is John's grandmother's (John Kunkel is the owner of Yardbird) and dates back over 150 years. It is a 27-hour process from start to finish and all that tender loving care is definitely evident the moment you bite into it.
How would you describe Miami's dining scene?
Miami is definitely experiencing a renaissance of sorts when it comes to the dining scene and it has certainly evolved since years past. With the opening of Yardbird we are really trying to carve a niche for neighborhood dining establishments on the beach. At the end of the day, it's really all about good food and good company and that's what Yardbird is all about.

The secret to cooking the perfect mac & cheese
The secret to the perfect mac and cheese is a golden crunchy crust for texture and lots of gooey cheese.

At what point did you realize you were destined to be a chef?
When I was 16 years old, working at the Bay Café. I worked under Chef Rick, who I consider to be my mentor. He encouraged me to pursue my passion for this industry.

The 5 ingredients every kitchen should have?
Good sea salt, stone-ground grits, high-end bacon, Louisiana shrimp and wood chips for achieving a smoked flavor when cooking.
The 5 utensils every kitchen should have?
Cast-iron pan, candy thermometer, sharp knives, wooden spoons and a food processor.
First dish you learned to make?
Fried oysters & sausage.

Favorite dish to make at home?
Bistro-style roasted chicken.

What's your favorite food to eat? In other words, what could you live off of for the rest of your life if you had to?
Grits. I just can't get enough of them!
Tell us a little more about your restaurant.
Yardbird Southern Table and Bar is a down-to-earth joint that preaches the gospel of good food and good company. We are using regional and seasonal ingredients, humanely raised meats and a made-from-scratch ethic, taking the best of traditional southern comfort cuisine, and executing and infusing it with modern technique. We are making everything in-house, from the alligator sausage in our Brunswick stew, right down to the crackers that are served with our pimento cheese jar appetizer. Our desserts are phenomenal, right out of your grandmother's kitchen, and if you're looking for some southern comfort by way of the glass, we've got the most impressive Bourbon program in South Beach with over 50 different varieties by the glass. To add to that, we are infusing our own cocktails with a bevvy of fresh fruit and herbs and barrel-aging our own cocktails. We are serving dinner and lunch and will soon be adding a Sunday Gospel brunch to the mix.
If there's one tip or piece of advice you could give to all aspiring chefs out there, what would it be?
Be humble, be punctual, be professional!