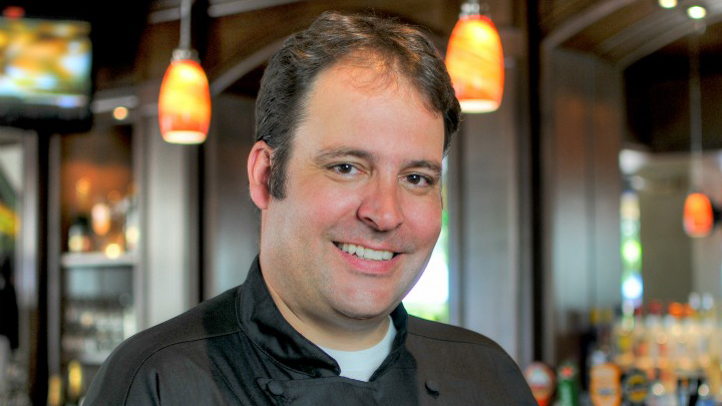 Nothing beats hanging out at a pub with friends when you're looking for a low-key night. The vast variety of craft beer, the open air, and great, local food just hits the spot. And with superstar chef Todd English at the helm of the menu, you're pretty much set. English Tap and Beer Garden's Executive Chef Ken Stevens talks grilling, passion, and taking on Todd's menu.
I'm sure all the dishes on each of your menus are like your children, but if you had to choose only one dish from the menu, which ones are you most proud of?
There are some dishes from Todd English Wild Olives that were so popular we brought them over to The English Tap's menu. They include Grilled Asparagus Frittes with arugula and honey mustard aioli; Brown Sugared Rib Eye with Parmesan whipped potato gratin and Carpet Bagger Oysters which is a favorite beef carpaccio appetizer.
Most popular item on the menu?
Our flatbreads are the best and most popular. I use a starter dough to make the pizza dough which gives it a taste above most. Plus, all the ingredients are fresh from local purveyors.
How would you describe Miami's dining scene?
The English Tap & Beer Garden is in Boca Raton, which has a very diverse dining scene. What I love about English Tap is that delivers a wide variety of tastes that South Floridians love, from the fresh raw bar, flatbreads, burgers, delicious salads, grilled asparagus frittes, corn dog puppies, skirt steak, fish and chips, Shephard's pie, bangers and mash, and so much more.
The secret to cooking perfect pasta?
The secret would be to make fresh pasta but sometimes it is feasible to use dry pasta. The key to use dry pasta is to cook it to order, cook it al dente and never wash the pasta with water.
At what point did you realize you were destined to be a chef?
I began cooking in a commercial kitchen in 2002 and I loved it so much I decided to go to culinary school. I have a great passion for cooking, but the business side of it gets a little crazy as a chef.
The 5 ingredients every kitchen should have?
Fresh herbs, local ingredients, chicken and beef stock, sea salt and love.
The 5 utensils every kitchen should have?
Spatula, tongs, and a spoon to taste.
First dish you learned to make?
I learned to cook everything on the grill outside. Meat would be the first. A lot of people take meat for granted but you need to tenderize, marinate and never push down on your meat while cooking. The flavor is in the juice that flows from it. Lastly, always let your meat rest before cutting into it.
Favorite dish to make at home?
aking pizza from scratch with my daughter. She rolls the dough out thick, mommy rolls it out thin and I make Stromboli's. It is a great way to get the family together and have fun.
What's your favorite food to eat? In other words, what could you live off of for the rest of your life if you had to?
Chicken wings and pizza.
If there's one tip or piece of advice you could give to all aspiring chefs out there, what would it be?
Keep the passion in what you love and understand that the business side is part of the business. Without the business aspect of a restaurant you don't have a place to show case your food. So love what you do and do what you love.