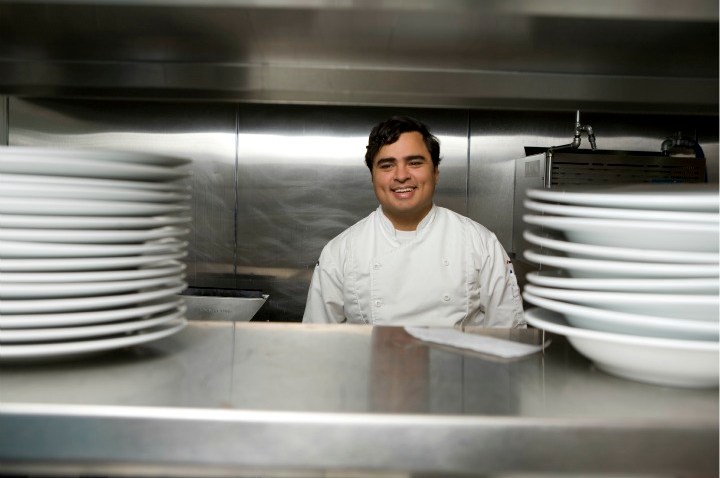 Let's be honest, nothing washes down any great meal quite like craft beer. Chef and Miamian Luis 'Lou' Ramirez is taking the gastro-pub movement and making it his own with Lou's Beer Garden, a laid-back place that can satisfy fancy-shmancy eaters. A Lou's, Ramirez calls the shots and picks the micro-brewed beers that make it to every table. Originally from the kitchens of the Marseilles Hotel and Randazzo's Talula restaurant, he believes the most important influence in his career is his relationship with the ingredients he comes across (and those he has yet to discover).
I'm sure all the dishes on each of your menus are like your children, but if you had to choose only one dish from the menu, which ones are you most proud of? Tripe, callos de sevilla. It took me nearly a month and a half to create and perfect it.
Most popular item on the menu?
Iberico squid. It's always sold out (and painful to make).
How would you describe Miami's dining scene?
Evolving and catching up to bigger and well-known dining scenes, such as New York and LA.
The secret to cooking perfect pasta?
It depends on the pasta you want to make. Fresh pasta should be cooked in the sauce. Dry pasta should be par-cooked then finished in the sauce.
At what point did you realize you were destined to be a chef?
When I clocked in my first 20 consecutive hour shift in the kitchen. I remember it didn't feel like work to me at all.
The 5 ingredients every kitchen should have?
Pepper, salt, bay leaves, coriander, and something spicy.
The 5 utensils every kitchen should have?
Slotted spoon, strainer, whip, tongs, and a coffee grinder.
First dish you learned to make?
Pasta alla carbonara.
Favorite dish to make at home?
In the summer time, I love to make pan-fried sardines. In the winter, I prefer oxtail soup.
What's your favorite food to eat? In other words, what could you live off of for the rest of your life if you had to?
Salt and vinegar potato chips. It sounds unexpected, but it's a simple pleasure I enjoy.
Tell us a little more about your restaurant.
Lou's Beer Garden is a gastro-pub, the British answer to the French bistro. We cook with whatever is available and we present it with flair.
If there's one tip or piece of advice you could give to all aspiring chefs out there, what would it be?
Look before your jump. You need to have absolute passion for this craft or the industry will chew you up and spit you right out!