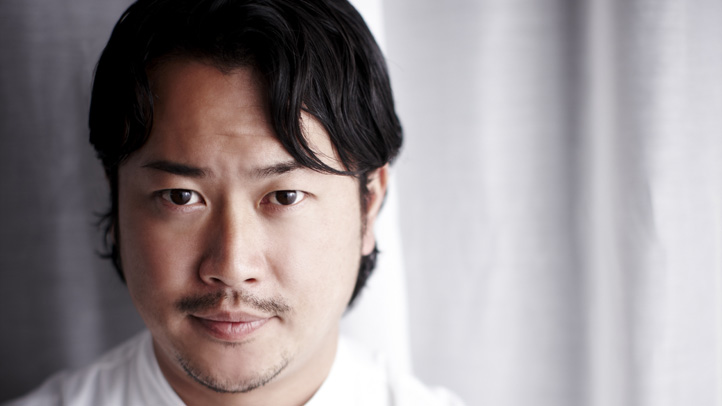 The man behind the toque in such kitchens as Buddakan and Morimoto now has a place to call his own. Lucky for us, it's in driving distance (Bal Harbour Shops, to be exact). Slated to open in spring '11, Makoto is the sure-to-be-delicious brainchild of Makoto Okuwa, who talks with us about everything from his bad fishing record to the surprising ingredient every kitchen should have (you reading, Hellmann's?).

What dish on the menu are you most excited about?
My sushi omakase, of course, because I get fresh fish delivered on a special flight from Tokyo three time a week so that I can guarantee the best tasting sushi. I am also excited about my Wagyu steaks cooked on a Bincotan, which is a Japanese charcoal.

For a Japanese food novice, what would you recommend?
I would recommend my signature Makoto Ramen soup. It's a spicy delicious ramen from my hometown of Nagoya.

Best advice Morimoto ever gave you?
He told me that I need to concentrate on what I am best at and there will be no limit to how much I can improve.

Fondest food memory?
My mother's Japanese spring rolls that she used to make when I was young. She's an amazing cook and I miss her food every day.

Biggest difference between Japan and U.S. dining scene?
I don't think there's a big difference between the two when it comes to fine dining. The street food in Japan is awesome, but the U.S. is getting famous for street food as well with the local food trucks.

5 ingredients every kitchen should have?
Garlic, shallots, mayonnaise, soy sauce, and magokoro, which is 'soul' in Japanese. Salt and pepper, too, of course.

Dish you could eat for the rest of your life?
Japanese curry rice. It's completely different than Indian or Thai curry, it's amazing and addicting.

Favorite dish to cook at home?
When I get home I just want to drink an ice cold beer and eat karaage, which is Japanese fried chicken. It's lighter than American fried chicken, but it's good!

What about Miami are you most looking forward to?
Fishing! I've been fishing for 25 years, but never caught one fish, except in a tiny lake where people let go of their catch.

Favorite place to eat, besides your own restaurant?
Chef Thomas Keller's French Laundry in Yorkville. Everyone should go there once in their lifetime, however, when Chef Michael Voltaggio opens his restaurant, I'm sure that will be my all-time favorite.