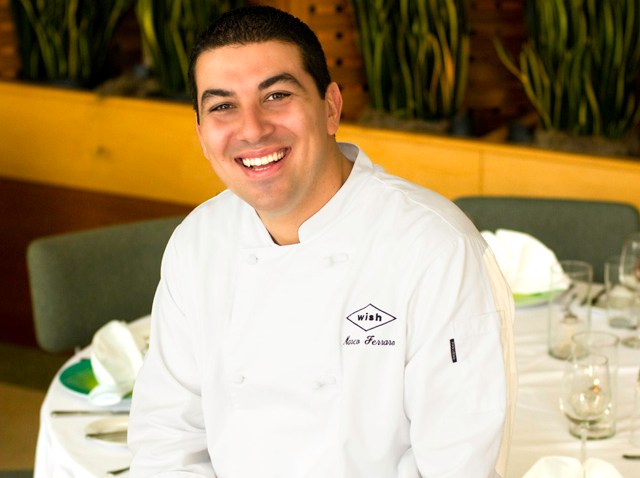 Chef Marco Ferraro has been at Wish for about a year and a half now, but don't label him as a newbie just yet. Ferraro graduated from The French Culinary Institute in New York, has extended his culinary prowess into France and has worked with culinary legends like Jean-Georges Vongerichten. The restaurant, a longtime favorite of many critics and foodies alike, boasts a contemporary American menu with Mediterranean, Asian, and Latin accents, reminiscent of his time spent in France and with Vongerichten. His menu is everything someone could "Wish" for and more. His return to the States has worked out in our favor, and just this once, we think it's okay to be a little selfish about it.
I'm sure all the dishes on each of your menus are like your children, but if you had to choose only one dish from the menu, which ones are you most proud of?
A: I am most proud of the Pan Seared Scallop dish. All the ingredients - every flavor and texture - just works perfectly on the plate as well as on the palate.
Most popular item on the menu?
A: The poached seafood appetizer is a popular dish. Beyond the ingredients - lots of fresh shellfish, aromatic broth - I think the presentation makes people curious. I slow cook the fish in a sealed mason jar, which is placed in a water bath. The water never actually touches the fish so they retain their firmness and are slowly poached. We open the jar tableside and pour it onto polenta. People love it.

How would you describe Miami's dining scene?
A: The Miami dining scene is a mixed crowd: locals, real foodies, the scene-and-be-seen crowd and visitors. It's exciting as a chef, but also challenging to try and please everyone who dines at Wish.

The secret to cooking perfect pasta?
A: The secrets of cooking perfect pasta are to a) make sure that the pot is large enough to hold plenty of water b) add enough salt and c) bring it to a full boil. Pasta needs a lot of room in the pot to move around so that it cooks evenly and enough water so it doesn't have too much starch clinging to it while cooking.

At what point did you realize you were destined to be a chef?
A: I realized I was destined to be a chef from the age of 12 or 13. My parents owned a pizzeria and I loved working with the guests as well as in the kitchen. I fell in love with the business side of it and the artistic elements of it.

The 5 ingredients every home kitchen should have?
A: The 5 ingredients every home should have are: olive oil, vinegar, salt, fresh chilies and a high-quality rack of dry spices.

The 5 utensils every home kitchen should have?
A: The 5 utensils every home should have are: food processor, cast iron pan, whisk, mandolin, and a good quality chef's knife.

Your fondest food-related memory?
A: My fondest food memory has to be when I was a kid in Italy and every January my family killed the pigs they raised all year to make sausages, salami, prosciutto, soppressata, pancetta, and of course, freshly cooked pork. The smell of the pig roasting was fantastic.

First dish you learned to make?
A: The first dish I learned to make was Lasagna Calabrese with my mother, who helped get me started in the kitchen.

Favorite dish to make at home?
A: My favorite dish to make at home is pasta with pesto sauce. I have amazing basil growing on my balcony and it always puts a smile on my face when I eat what I've grown myself.