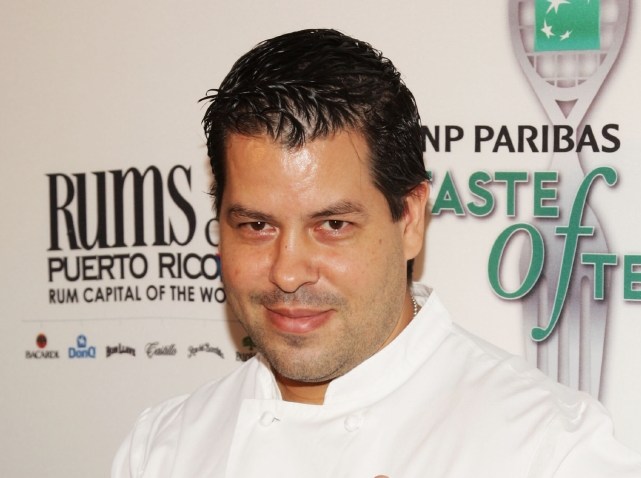 Anyone who is anyone has made it their first priority to eat and be seen at STK Miami. Housed in the ultra-chic Gansevoort South Beach since opening in January, the restaurant's doing pretty darn well for itself. But even with celebrity fans like Fergie and Josh Duhamel dining away, there's one reason why everyone keeps going back for more: the menu. You feel like a rock star even eating there, but the food puts the eatery above the rest. Who can we thank for things like their Big Eye Tuna with Roasted Pineapple or their Organic Free Range Chicken? One man name by the name of Todd Mark Miller.

STK's executive chef didn't take a typical path to culinary fame. Born and raised in Utah, Miller made it to the top of his game with no formal training. From Las Vegas to New York, he has worked alongside some of the best chefs in the world's most prestigious restaurants. After making a serious mark on The Big Apple as executive chef at STK New York, STK did us a favor and brought him to cook up his amazing food in Miami Beach.
Todd Mark sat down with us to talk to us about everything from what he thinks you should have in your kitchen to how he made his mark on the food world.

I'm sure all the dishes on each of your menus are like your children, but if you had to choose only one dish from the menu, which ones are you most proud of?
That's a good question! If there was a gun to my head and I could only answer with one dish it would be the Foie Gras French Toast.
Most popular item on the menu?
I would have to say the Little Big Macs.
How would you describe Miami's dining scene?
Very educated about food, loves to have fun and open minded to new things.
You never had any formal training; how did you become such a great chef?
The only real training that I had was from the School of Hard Knocks and I think that I still have a long way to go till I consider myself as a great chef.
STK is doing very well here in Miami. What makes STK so special?
It's the whole package. You get a sexy dining room, amazing scene and music, great drinks and fun tasty innovative cuisine.
You have worked in a lot of great cities. Favorite place you have lived so far?
That's a loaded question!!! Of course Miami, then close second, Singapore.
At what point did you realize you were destined to be a chef?
When I was in college and decided psychology was not in the cards for me.
The 5 ingredients every kitchen should have?
Tons of fresh herbs, a well stocked pantry, Grains of Paradise, anything that's in season, vegetable-wise, and day-caught seafood.
The 5 utensils every kitchen should have?
Immersion circulator, Japanese mandolin, Microplane, sharp knife and your favorite spoon.
First dish you learned to make?
Peanut butter and jelly, naturally.
Favorite dish to make at home?
Anything fresh and simple like oven-roasted salmon over crushed avocado, vine ripened tomato and orange with virgin olive oil and torn herbs.
Favorite food-related memory?
When I would come home from school to my Grandmother's and she would have fresh baked bread still warm for us with soft butter and freshly made preserves from her hand to my sister and my mouths.