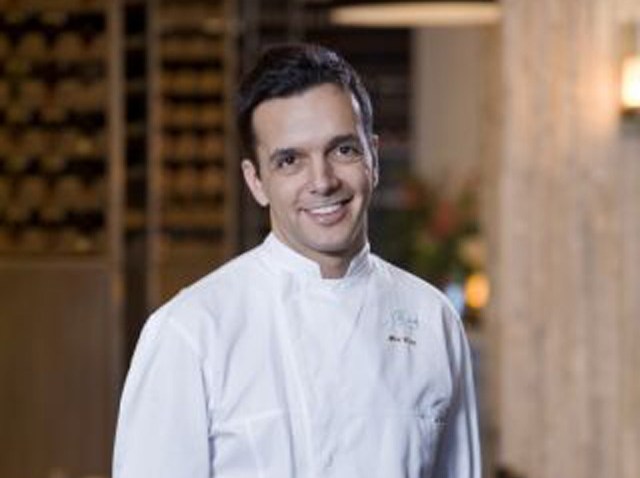 A restaurant with Spanish food in Miami is not the most original idea. Yet somehow the W's Solea in South Beach is bringing us something we haven't experienced before. New Executive Chef Mark Vidal kills it in the kitchen with his Spanish recipes brought to Miami from his homeland of Spain. Not only is the food some of the best you have ever had, Solea has become the place to eat and be seen by celebrities, foodies, tourists and the best of the best of Miami. Named one of the top chefs in Spain in 2005, he got his cooking skills in his family-owned restaurant located in Barcelona. From a small boy cooking up meals with his madre to now cooking at one of the fiercest places on Miami Beach, the sexy Spanish chef talks about how he made it in the food world and what he makes it with.
I'm sure all the dishes on each of your menus are like your children, but if you had to choose only one dish from the menu, which ones are you most proud of?
The lubina (branzino). I love the lentils that go with that fish, we cook the lentils and drizzle them with a smoked paprika vinaigrette.
What's the most popular item on the menu?
Probably the pa amb tomaquet, homemade Spanish country bread made by our great pastry chef, Antonio Bachour. The bread is airy, crispy and light, and then topped with fresh grated tomatoes, extra virgin olive oil and Maldon salt.
How would you describe Miami's dining scene?
Vibrant, up-and-coming and has some great local and international talent.
Biggest difference between Spain's and Miami's dining scenes?
Miami goes to bed early; we are just dressing for dinner then!
Secret to cooking perfect fish?
I like to put the salt on the plancha (grill press). Like this, the fish takes what salt it needs and leaves the rest. I brush it lightly with good Spanish olive oil and cook it with the skin. This way, it becomes crispy, but also protects the moistness of the flesh.
At what point did you realize you were destined to be a chef?
Very young. My family had a restaurant and I was a bad student... so they stuck me in the kitchen!
The 5 ingredients every kitchen should have?
- salt
- olive oil
- garlic
- tomatoes
- passion
The 5 utensils every kitchen should have?
- tongs
- sharp knives
- plancha
- blender
- and a really good dishwasher
First dish you learned to make?
Rabbit with mushrooms.
Favorite dish to make at home?
Tortilla Espanola with fresh salad.
Favorite food-related memory?
Chocolate con churros before a ski trip.
What are you doing when you're not cooking?
Sleeping!