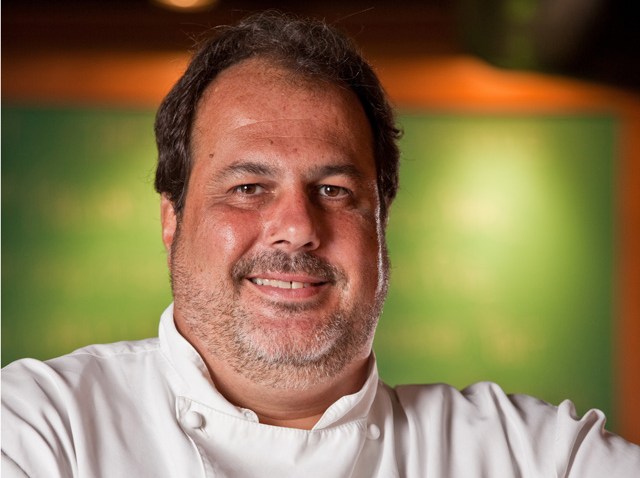 Chef Oliver Saucy is quite a character. His spunky, friendly attitude is contagious, as is his distinctive and exquisite cuisine. His restaurant, Cafe Maxx, will never have the same dish twice, and uses only the freshest ingredients. But don't take our word for it: taste for yourself -- and on the cheap(er) -- during Dine Out Lauderdale, which starts October 1 and runs til November 12.
I'm sure all the dishes on each of your menus are like your children, but if you had to choose only one dish from the menu, which ones are you most proud of?
I definitely have a preference for the local seafood, [like the] the tuna and wahoo [sashimi]. I just can't get enough. We print our menus daily, and a small percentage of dishes actually stay on the menu, so it's really hard to pinpoint just one dish.
Most popular item on the menu?
Our sweet onion-crusted yellowtail snapper is really popular, so is the three peppercorn filet mignon with a three-cheese au-gratin potato. Our tuna pizza is also something our customers go absolutely crazy for.

How would you describe Miami's dining scene?
I would rate it a B plus. It's not the San Francisco or New York City dining scene, I mean, they're the leaders in dining, especially Northern California. There's just not as much intertwining here. It definitely seems to be growing, though, there's major potential.

At what point did you realize you were destined to be a chef?
I actually wanted to be a weatherman when I was a teenager. My dad was a teacher at the CIA [Culinary Institute of America] in New York, which is the Harvard of the culinary arts in the nation, I think. So I had the opportunity to take class there at 17, and I figured I might as well try it.
The 5 ingredients every home kitchen should have?
Extra virgin olive oil, some nice vinegar (balsamic), and you can't go without onions and garlic. I also always like to cook with red and white wine as well, you know, with whatever's left over of the bottle.

The 5 utensils every home kitchen should have?
Everybody needs a nice pot and pan, a knife set is a given. This is not a favorite of mine, but my wife loves to use a garlic press. One thing I find I can't do without anymore is a Teflon rubber spatula; it can last through anything. A spice and/or coffee grinder is also a useful tool.
Your fondest food-related memory?
Restaurant trips between San Francisco and New York, and going to Masa's in San Francisco. People spend a lot of money on wine there.

First dish you learned to make?
Probably pancakes. My mom taught me to make them when I was six. My dad also taught me to de-bone chickens when I was seven.

Favorite dish to make at home?
My mom used to always make spaetzle, which is a German pasta and dumplings dish, with beef and mushrooms. It's a pretty hearty stew.