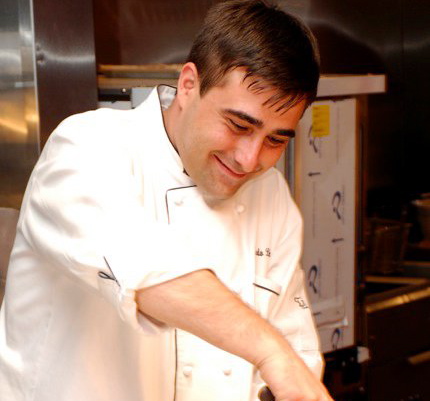 When you hear Lamborghini, you think fast cars. Tonino Lamborghini wants all that to change.
Lamborghini, whose father introduced the world to the ultra-sleek sports car of the same name, has parlayed his generational sense of style and decadence into his first US restaurant location at Gulfstream Park's The Village. Tonino Lamborghini's Caffé Corsa, with all the style you expect from a Lamborghini with modern furniture and gorgeous decor, is under the direction of Italian-born executive chef Paolo del Papa.
Papa, born and raised in Viterbo, Italy doesn't disappoint with his knowledge of Italian cooking, making you feel like you're eating a in chic cafe in Italy. Known for handcrafted Neapolitan pizza, the restaurant's homemade pasta and traditional Italian desserts are one-of-kind, too; in true Italian fashion the extensive wine list doesn't disappoint either.
Their Executive Chef sat down with us to tell us exactly what its like for an Italian to run an Italian restaurant and exactly how you go from cooking for the military to cooking for us.
At what point did you realize you were destined to be a chef?
I always knew I would be a chef. I grew up in my father's kitchen and fell in love with cooking. My Father and I found a way to bond through food. I was constantly following him around the kitchen, where I would watch what he was doing and help him prepare different dishes. It was like I was his chef's apprentice.

If you weren't a chef, what would you be?
I would be a steward for an airline so I could see the entire world.

What was it like being a chef in the Italian military?
It was a lot of fun cooking in the Italian military. I had the chance to serve my country while doing what I loved. On top of that, I met a lot of great people during this period of my life that I am still friends with today.

If you had to choose only one dish from the menu, which ones are you most proud of?
That would be like picking which one is your children is your favorite child. I'm proud of them all.

What would you say is the most popular item on the menu?
The Branzino Al Forno with lemon artichokes and asparagus.

You have worked in kitchens around the world. What has been your favorite place so far?
I love working in South Florida. Everything about being here makes me happy.

A full-blooded Italian cooking at an Italian restaurant... What can we expect from Tonino Lamborghini's?
Nothing but the best! Fresh ingredients, delicious food, authenticity and great service!

First dish you learned to make?
My father taught me how to make Pasta alla Amatriciana when I was 12 years old. It was the first dish I mastered.

What is your wife's favorite dish for you to make for her at home?
Roasted turbot. It's a Mediterranean fish that she loves. Unfortunately, I don't get to make it for her that often, so I save it for special occasions.

Is there a chef, dead or alive, you would love to get in the kitchen with?
Giacomo Gallina. He is the master chef at the Gold restaurant by Dolce & Gabbana and one of the best chefs in Italy. He has been a big supporter of mine and I have cooked for him but never with him. It would be an honor to share a kitchen with him.

The 5 ingredients every kitchen should have?
Basil
Rosemary
Parsley
Thyme
Sage

The 5 utensils every kitchen should have?
Knife
Serving spoon
Tongs
Slicer
Thermometer

Favorite food-related memory?
There are way to many to many to mention, but if I had to choose my favorite food related memory in America it would be my first trip to Chinatown. The food was delicious and it's very unique there. It's unlike anywhere else in the country that I have been.