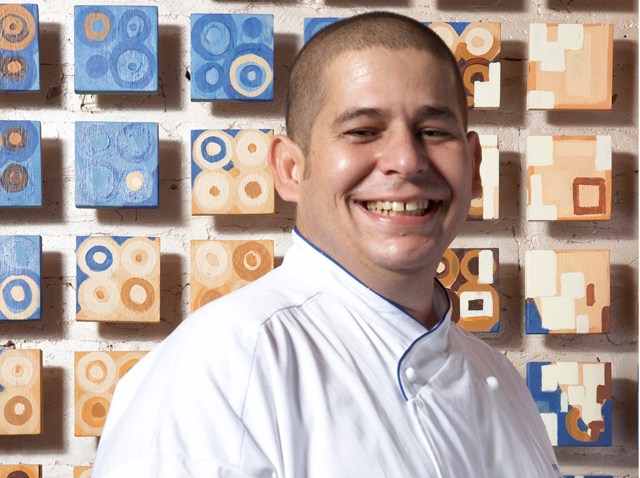 It's a family biz. The
Sandoval
brothers have been in the food business since before they could properly chew. Their father Manuel Sandoval genetically predisposed his sons to the life of a chef and entrepreneur. And today,
Patricio Sandoval
is the chef and partner of
Mercadito,
which serves
Miami
traditional and affordable Mexican Cuisine.
Mercadito in Midtown threw open its doors in March 2010, the fifth location the U.S. Hanging woven lamps, 3-D art, and floral designs only add to its flavor. Customers on the go may visit the Taqueria for Mercadito's famous fish tacos, or kick up a chair inside the restaurant and sip one of its signature margaritas.
As the muse behind it all, Patricio Sandoval takes his hometown heritage to the grill. Reminiscing about childhood trips to his father's restaurant and visits to the market with his mother, Sandoval emphasizes simplicity and freshness in his style -- and he'll soon spread the word
South Beach
with plans to open a gastro pub on Espanola Way.
At what point did you know you were destined to be a chef?
I grew up in Acapulco in my father's restaurant. My father had a restaurant for 30 years so I always knew I was going to be involved in the business. I started cooking when I was 21 years old at a late age but from then on I just knew I was destined to be a chef.
From the minute I started cooking, I knew that's what I wanted to do as a career.
What dish are you most proud of?
The fish tacos, the beer battered fish tacos. We had the best fish taco in New York by
New York magazine
in 2006 and I think that's the taco we're known for. Every location it is the best seller, and it is recognized by the press and by my peers.
What 5 ingredients must every Mexican food chef have in his kitchen?
Definitely chilies, either the fresh or the dry variety; garlic for sure; cilantro; definitely some Mexican chocolate; and maybe some Mexican brown sugar.
Utensils?
Definitely molcajete, which is a mortar, made out of stone to make salsas.
When you make a salsa by hand its completely different from when you blend it. Definitely a tortilla press. All the instruments for Mexican cooking are very ancient still so you really can't get them in the States. But there's another instrument, it is also made out of stone and you use it to grind corn. It's called a metate.
What can we find you cooking at home?
Plain food, I try not to eat Mexican when I'm home or when I'm out to eat. You can find me eating hamburgers, hotdogs, grilled chicken, you know something simple. A lot of vegetables.
What does your cooking bring to Miami's dining scene?
I think it brings a traditional Mexican restaurant. I don't think there's that many here. I think Mexican cuisines are on the rise again. There's three trends in food right now: pizza, hotdogs and Mexican food, so I think we came at the right time. I think Miami needed some Mexican food and also at the same time something creative in a traditional way of cooking it in a modern décor.
I've arrived at your restaurant with $12 in my pocket, what should I get?
You definitely have to try the fish tacos. If you're coming with 12 dollars you have to go to the Taqueria. They're a little cheaper and right next-door. Try the beer battered fish tacos or the carnitas if you like pork.
What is the best cooking tip your father gave you?
To always be passionate about doing it and to always care about the food and the ingredients that you use. It's something I try to teach to my cooks -- to always take care of the ingredients that you eat. You know we try to get the best ingredients out there so when they come in you have to treat it well and with respect.
How does your cooking style differ from the rest of the fam?
My cooking style is a little more traditional than my brother's. I think he's more of a fine dining chef. I think my food is considered upscale, but all the techniques and cooking methods we try to keep traditional and at the same time we try to keep what Mexican is. We're not trying to do any kind of French technique for example. We're trying to keep it as simple as possible.
So what's the secret behind the tacos?
I think the fresh ingredients and the combination of different flavors and different textures. I try to play on the sweetness and the spiciness. People say that spicy food takes away your taste buds, so I try to keep it spicy but complimented with something sweet or acidic, and always try to use different textures on the tacos.