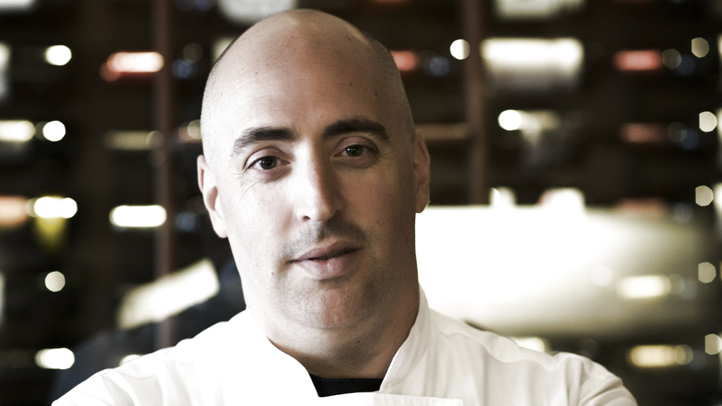 From the shores of Jersey to the shores of Miami, Chef Peter Vauthy's skills in the kitchen are as unmatched as the Certified Angus Beef he uses. He and his resto Red the Steakhouse have earned honors and great reps across the board, including a hat-tip from the Hef himself (yes, his steakhouse is certified sexiness) and honors from the James Beard House. Here's a tip for your next Red visit: Don't bother calorie counting, just indulge.
I'm sure all the dishes on each of your menus are like your children, but which one are you most proud of?
The whole Maine lobster with sour orange and agave nectar. I came down from the Midwest, and sour orange and agave is not something you'll find together on a Midwestern menu. It speaks to me about my assimilation to South Florida, it's flavors and what it has to offer me as a chef and to its patrons.
Most popular item on the menu?
The Certified Angus Beef Prime filet. It's the highest graded steak you can get and it's in all of our menu items. Another really popular item I would say is the four-cheese mac and cheese with lobster. It's super creamy, rich and delicious.
How would you describe Miami's dining scene?
There's a massive amount of restaurants here, and I've only been here for two and a half years. It's growing so fast and right before our eyes. Miami is becoming a major foodie city so fast and it's great to see the big-time chefs like Norman Van Aken, Michelle Bernstein and Michael Schwartz have a presence here. It's growing every day and I see a lot of chefs here that are taking advantage of the fresh produce we can get here so easily. You just don't get that in the Midwest.
The secret to cooking perfect pasta?
There's really no secret to it. You have to have the right amount of water, right amount of salt and know when it's done cooking. You can't take it lightly. It's not something you can set and walk away from—you need to pay attention to that and all your cooking.
At what point did you realize you were destined to be a chef?
I've always loved cooking. My grandmother, great-grandmother and great aunt used to take me food shopping in New York City and the cheesecake the owner used to make there was amazing. Before the store closed down, he wrote the recipe down for me (I was about four years old then)—that's the cheesecake recipe we have today at Red the Steakhouse. We have big family gatherings, I had two gardens growing up -- food's a big part of my life and I've always loved to cook. In a time where being a chef wasn't as glamorous an option, I took the long road and always knew I loved food and that's where I was meant to be.
The five ingredients every kitchen should have?
Cream, butter, kosher sea salt, fresh tomatoes, and Parmesan cheese.
The five utensils every kitchen should have?
A sharp knife, zester, food processor, food mill (like a ricer), and a very fine mesh strainer.
The first dish you learned to make?
Easy. Pasta with fresh tomatoes and basil.
Favorite dish to make at home?
To be honest, I don't ever cook at home; I'm always at the restaurant! But my favorite dish to make in general I would say is a beautiful grilled Certified Angus Beef prime rib-eye steak with fresh local corn.
What could you live off of for the rest of your life?
I would say heirloom tomatoes. You obviously can't survive on that, but to eat, I love it! It's beautiful, organic and fresh. If I had to pick just one thing though, I'd be in trouble. I love food so much!