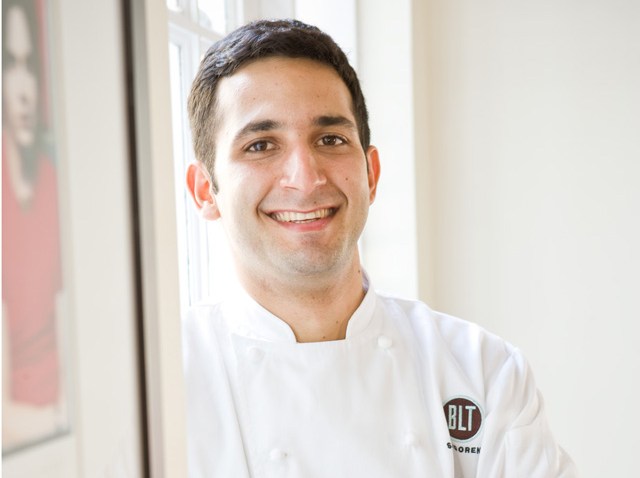 There aren't many places on South Beach where you can go for a terrific breakfast and than come back later for a dinner that will blow your mind. Well, times have changed, I guess. The historic and gorgeous Betsy Hotel on South Beach has given a gift that keeps on giving.Two gifts actually: BLT Steak and Chef Samuel Gorenstein.
The Colombian-born 26-year-old has a resume that would most definitely impress people 26 years his senior. Implanted in Miami at 14, he adapted to his new life by learning to cook with his favorite chef, his mom. Later attending Johnson & Wales University, Gorenstein went on to open a restaurant in New York City that received a three star review from The New York Times.
Doesn't impress you? Let's put it this way, that's like getting a thumbs up from Simon Cowell.
He is now back in his adopted hometown of Miami, tearing up the kitchen at BLT. Gorenstein makes his dishes with local ingredients in season, which invariably turn up on the restaurant's delicious daily "blackboard menu." The busy chef took some time to tell us about his favorite dishes that will more than likely become your new favorite.
I'm sure all the dishes on each of your menus are like your children, but if you had to choose only one dish from the menu, which ones are you most proud of?
I'd have to say the Long Island Duck Breast / Mango Mostarda / Foie Gras -- It's a very complex dish, lots of aromas coming from the Chinese 5 spice rub that we make in-house. Curing the whole ducks for three (3) weeks is crucial to developing all the flavors and aromas in this dish.
Most popular item on the menu?
Prime 22oz. bone-in Rib eye, without a doubt.
How would you describe Miami's dining scene?
There's a lot of momentum on the scene right how, but there's still a ways to go. Lots of local chefs have been making an impact for the past couple of years – that coupled with nationally acclaimed restaurateurs like Laurent Tourondel coming to town have really helped the scene progress nicely.
Secret to cooking a perfect steak?
Sourcing the best meat you can find, using sea salt, fresh black pepper, a French cast iron pan and of course, lots of butter. It's also important to let the meat rest after cooking – patience is the key to a moist, juicy steak.
Steak restaurants are a dime a dozen in Miami -- why should we go to BLT?
At BLT Steak I think you get the benefit of the whole restaurant experience –we take a lot of pride in taking care of each and every guest. Also, our menu has much more than just steak – it's really diverse, with something for everyone and we source and utilize the best seasonal ingredients available. And of course, we have an incredibly beautiful location at The Betsy Hotel.
What was the biggest lesson you learned from working with Laurent Tourondel?
Laurent is an incredible inspiration and a great mentor. Thanks to him, I've learned the importance of discipline, hard work and determination – as well as learning how to break down a dish completely.
At what point did you realize you were destined to be a chef?
I realized I was spending too much time in the kitchen as a kid. What started as a hobby, ended up as a passion – and a career.
The 5 ingredients every kitchen should have?
Sea salt, Unsalted Butter, Unfiltered Olive Oil, Sriracha (Vietnamese hot sauce) & Fresh Thyme.
The 5 utensils every kitchen should have?
Vita Mix, French Cast Iron Pan, Boos Block Cutting Board, Tamis and a Rondeau.

First dish you learned to make?
Potato Frittata – to this day it brings back memories of my childhood.

Favorite dish to make at home?
Smoked Shortribs with a maple syrup-BBQ sauce.

Favorite food-related memory?
Picking fresh berries as a kid. We used to go to my family's farm in Colombia on the weekends – there is nothing like picking and eating wild blackberries and strawberries right on the spot.