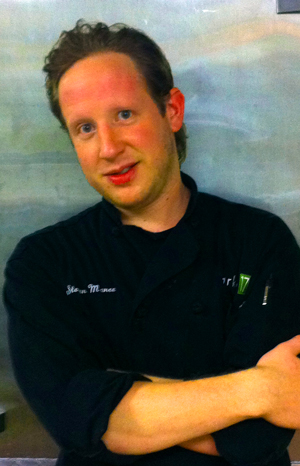 Steve Manee is a Northerner by birth but a self-proclaimed Spaniard at heart. Both of these traits serve him well here in South Florida as the acting head chef at Market 17, a Fort Lauderdale farm-to-table restaurant. He set in foot in the kitchens of favorites like Café Maxx and the former Riley McDermott's, but it's his serving and bartending experience that really give him a unique perspective in running the kitchen and serving guests' needs. As the popular Dine Out Lauderdale comes to a close this week, Manee took some time to chat about how he got to where he is today and the cuisine scene as he sees it.
I'm sure all the dishes on each of your menus are like your children, but if you had to choose only one dish from the menu, which ones are you most proud of?
It's a tie between the fried tomatoes and squash pasta and the Harina dusted snapper with mango slaw and guacamole. I would choose these because they are very locally and sustainably grown and very delicious.

Most popular item on the menu?
The snapper, we change our menu daily based on local produce availability but the snapper sells well with any preparation.
How would you describe Miami's dining scene?
Eclectic and bright, sometimes overpriced (let's be honest) but sometimes underrated.

The secret to cooking perfect pasta?
Not overcooking it! I like to cook fresh pasta right in the sauce that I am going to serve it in because overcooking pasta is just as bad as serving it raw.

At what point did you realize you were destined to be a chef?
When I was 19 I took a job as a baker at an upscale restaurant in my hometown of Jackson, Michigan. Chef Daryl ran that restaurant like a family and I fell in love with the food and the thought of making some ones special night out something incredible.

The 5 ingredients every kitchen should have?
Salt, vinegar, fresh local herbs, garlic, and love for food. Lots of love for food.


The 5 utensils every kitchen should have?
Mortar and pestle, Japanese mandolin, pasta machine, pressure cooker, and a small library of culinary books.
First dish you learned to make?
Corned beef gravy on rye toast. My mother would make this for me as a child and I loved it so much I learned how to make it myself.
Favorite dish to make at home?
Smoked spare ribs with mango barbecue sauce (from the tree in my back yard) with an apple fennel coleslaw and bourbon mashed sweet potatoes.
What's your favorite food to eat? In other words, what could you live off of for the rest of your life if you had to?
Smoked pork! I am very Spanish at heart when it comes to my love for pork and we serve some of the best pork you can find in the states from Palmetto Creek out of Avon Park, Florida.
Tell us a little more about your restaurant.
We are in the business of serving outstanding food that is grown locally and sustainably, great flavor, great for the environment, and great for your community
If there's one tip or piece of advice you could give to all aspiring chefs out there, what would it be?
Travel abroad, see how other cultures utilize the foods around them and see the respect that they have for things that were once alive and we call food.