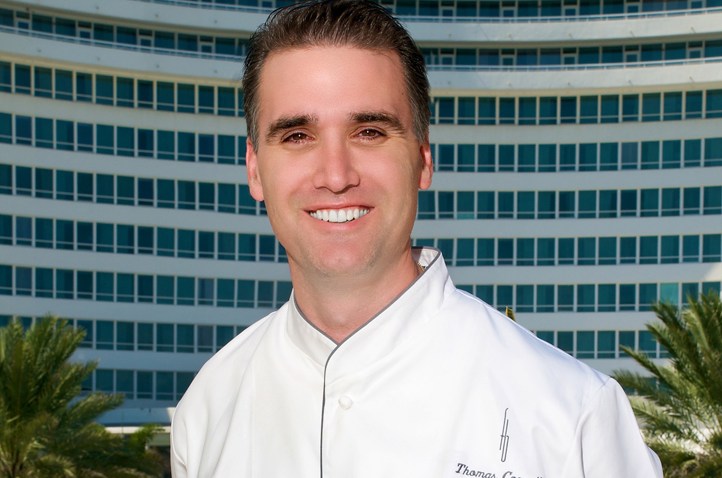 Chef Thomas Connell has played the role of student to culinary masters such as Sergi Arola, Julian Serrano and Ferran Adria. He's cooked in places we could only dream of: Bali, Shangai, Tenerife, Hong Kong and Singapore. Connell's latest stop (hopefully for us foodies, a permanent one) is at the Fontainebleau Miami Beach as executive chef of the legendary luxe resort. He sits with us now to tell us of his travels and culinary exploits.
I'm sure all the dishes on your menus are like your children, but if you had to choose only one, which are you most proud of?
The octopus, artichoke and prawns in garlic from La Cote. This dish makes me feel like I'm in the country somewhere. It also combines some of my absolute favorite foods. The smell of the sea combined with the roasted garlic is perfect for me.
Most popular item on La Cote's menu?
The most popular dish on La Cote's menu is the prosciutto pissaladiere. This dish is kind of like a flatbread pizza. The dish is very light and people identify with it. Most importantly, however, the dish is very representative of the restaurant and ambiance at La Cote.

How would you describe Miami's dining scene?
Miami's dining scene is quite indicative of the people who live here: exciting, creative, cross-cultural.
The secret to cooking perfect pasta?
Make it fresh. It can be made at home and frozen until ready to be cooked. Finish it off with butter, Parmesan and a bit of the cooking water.

At what point did you realize you were destined to be a chef?
Since I was five years old. I was influenced by my grandfather, who loved cooking and actually cooked with Vincent Price, and was a cooking enthusiast as well as an actor.
The 5 ingredients every kitchen should have?
Garlic, something spicy such as cayenne or chili flakes, olive oil, a good vinegar and passion.
The 5 utensils every kitchen should have?
A spice grinder, a robot coupe, a Kitchen Aid mixer, a sharpening stone, and a scale.
First dish you learned to make?
Enchiladas. I was 10 when I made my first family dinner for all 12 of us. My brother bought me a cookbook and asked me to try something so I picked chicken enchiladas.
Favorite dish to make at home?
Barbecue, grilled vegetables, anything cooked over my wood grill.
What was it like having the opportunity to learn from culinary greats such as Sergi Arola, Julian Serraano and Ferran Adria?
From Europoean chefs you learn how to be creative and respect tradition at the same time. This is a challenge for many chefs.
What could you live off of for the rest of your life?
Any kind of pasta (my wife makes it better than me).