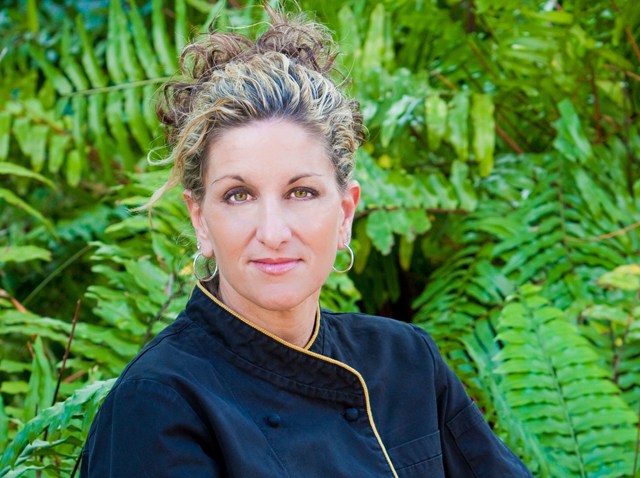 A resumé that lists executive chef, business owner, wife, and mother has something new to add. Multi-tasker extraordinaire and Miami resident Andrea Curto-Randazzo joined 17 other chefs in Las Angeles for Top Chef's seventh season, which premieres Wednesday.

Since finishing up the TV competition, Curto-Randazzo is back in Miami, traveling between her two restaurants, Talula and the Water Club, and getting it done with time to frost her daughter's cupcakes. But she doesn't do it alone -- Andrea and her husband met when she was only a Curto at a restaurant in NYC. As the two partnered in life, the restuarant business partnership soon followed, and the pair forsee even more ventures in the future.
To put it simply, she says, "We have big plans."

How did you finally realize you were destined to be a chef?
I had gone to college for a couple years in Alabama, partied a little, and wasted some time. Then I came home and was trying to find myself and started working in restaurants. I had always loved to cook, but a friend and I were talking about going to culinary school. So I saved up my money and got a little experience and that's where it started.

Do you remember your first dish?
My grandmother was a great cook, so clearly Sunday sauce and meatballs were important. That was probably the first thing. I think my mother would say I dabbled in chili a lot. What I did as a kid was, she would make the chili and I would go behind her and put a bunch of stuff in it. So maybe that was my first creative endeavor.

What brought you to Miami?
We were just looking for a different up and coming food city. I think we were both tired of the snow and we just wanted a change. We were thinking about Vegas and New Orleans, and we decided on Miami. I'm not really sure why. So we saved up some money and came down here with no job and no place to live.

What do you look for in a chef?
A strong work ethic is very important; someone who is loyal dedicated and dependable. I do like them to have some knowledge, however my husband and I are both teaching chefs and we enjoy doing that. So that passion for food and a strong work ethic is really important, and the willingness to put in the time to get to the next level. I'm all about paying dues because I had to, so that's the way I run my kitchen.

How did you get the Top Chef gig?
I didn't really apply, so much as someone convinced me to go to an interview that was set up for me locally. I went a little underdressed because I was not really sure that it was something I really wanted to do. Let's just say being a really good chef and working really hard just isn't enough anymore. It's not my dream to have my dream plastered all over TV, however, I do have a family and I need to make money. Mostly I just want to be successful and respected for what I do.

What can you tell me about your experience on Top Chef?
I can say that it was an interesting experience. I would never do it again, never. Once was enough. It was a lesson in the TV world, but one thing very positive I did take out of it was the people that I met. From the 17 people that were cast members, the majority of them I really adore and will for sure stay friendly and be in contact with forever. We're friends. It was an experience that was very unique, and to go through it with someone is a bond that you have that no one will ever understand.

What are the pressures of cooking on camera?
It's very different. One, you're out of your element; two, you have time restraints; and three, you have people running around and cameras everywhere. There are many obstacles. But it is a show that is a game and it's the challenge, so that's what it's about. It's difficult to stay focused with all this craziness going on around you. It was interesting.

What's your signature dish?
My background is Italian so I'm always most fond of those classic Italian dishes that remind me of family. I really enjoy making risotto. I'm kind of known for it and I take it really seriously. I love making homemade gnocchi and braising meat, like braised beef short ribs, slow roasted pork.

5 most important ingredients every chef should have?
I don't know what every chef should have, but the ingredients that are important to me are citrus, be it the juice or the zest I think it brings to dishes. I do enjoy using chilis, whether dry or fresh. It's hard; it's like picking a favorite child. I love herbs in general but I do use chives a lot. Salt and pepper, I hate to say it -- it's boring -- but there's nothing worse than going out to a really nice meal and having a beautiful dish that just lays flat because it wasn't seasoned properly. I like mushrooms a lot. I find a hard time not putting them in things.

What's the best cooking advice you could give?
To be passionate about it. I'd like to think that my food is really thoughtful, because I put a lot of myself in it. For lack of a better description, I love on it. I think when people eat my food they can taste that thoughtfulness. I think that comes back to my grandmother.