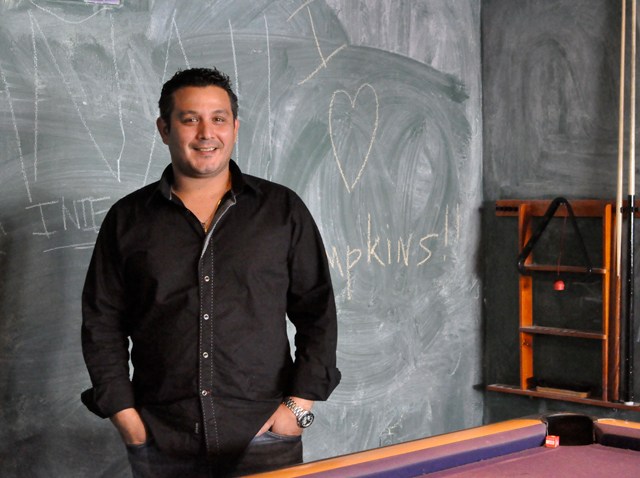 A local favorite burger joint with top-notch meat and foie gras may sound like a myth, but Executive Chef Carlos Barillas helped turned Burger & Beer Joint into a reality. B&B-goers in South Beach and Brickell may pick their meat cooked to order, with fancy toppings and delicious bar bites. Ever thought of egg on a burger? What about prosciutto? This joint is all about keeping an open mind, so sit down and be adventurous.

What's the secret behind making the perfect burger?
Freshness and overall the best ingredients that one can buy. Even though it's a burger concept, I treat it as a fine dining restaurant. To me the concept is to have a gourmet meal between two pieces of bread.
What's the most popular burger at B&B?
The Thunder Road. We sell about 1,800 a week. It has durof bacon sliced in-house. We use a 10-oz patty with American cheese and we make our own bourbon BBQ sauce. It's topped with a sesame seed bun.

What should ever burger have?
Every burger should have foie gras. Definitely foie gras.

How have Miamians received you?
We cater to all types of clientele. B&B has a unique personality. It has more of a following; somewhat of a cult following. People come here to hang out and not have that South Beach mentality. This place is your house. This is your home. It's a locals hot spot.

When did you know you were destined to be a chef?
Starting when I was about 14. I picked it up part time as a prep cook and I was really put to the test when one of the line cooks never showed up. I really wanted it. I was really hungry for it. I loved the teamwork, I love the food and mostly I loved creating. Shortly after being employed I became a line cook. So far I just haven't been able to let it go. I love what I do.

Cook vs chef.
A cook is someone who is hungry and willing to learn and go through the necessary steps to accomplish that chef position. A chef is someone who is more of a mentor and is trying to build up the restaurant. It's about the employees. It's a tough business. It's not a glamorous job and you really have to be passionate about it.

Best cooking advice you've received.
Keep your mouth shut and have your ears open. Listen and learn.