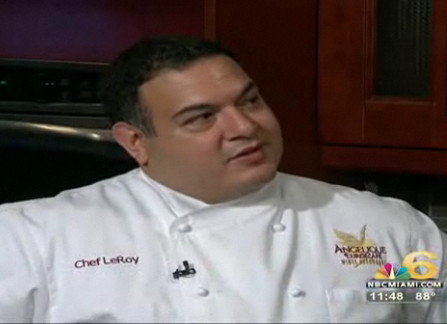 When he couldn't find his passion in the books, Chef LeRoy Bautista discovered it in the kitchen. He was studying in Italy with a part-time cooking gig when he fell in love with food and it into his full-time, executive chef career. After traveling through western Europe, honing his skills, Bautista settled back in New Orleans for almost two decades before making Miami and Angelique Euro Café his new home.

Angelique sits discreetly on Miracle Mile's restaurant haven, offering its customers a unique café setting. Customers may pop in to satisfy their sweet tooth with espresso and pastries, drop by on break for afternoon pizzettas or settle down in the evening for a chef favorite: pasta carbonara.

What is your favorite dish to make?
In this restaurant, pasta carbonara..It's unlike anywhere you've ever seen before. It has a white wine sauce with caramelized pancetta, roasted garlic and shallots finished with a little white wine. We toss the pasta in it and top it with a crispy pancetta chip topped with a soft poached egg, sprinkle a little pepper on it and it's done.

What is your favorite dish to eat?
Day to day, maybe a nice panini sandwich with a combination of prosciutto and regular ham with a little bit of brie, baby spinach and tomatoes; and that's it -- simple, very simple.

Fondest food memory?
I was working at the Wyndham hotel at a restaurant called 56 degrees. My wife was the general manager. I didn't know her then. We met there at the hotel. I enticed her with food and now we're married seven years.

When did you realize you were destined to be a chef?
I was going to college, working my way through school in the kitchen and I decided that it would be best thing for me because I loved the kitchen more than I loved school. I hadn't made up my mind what I was studying for yet, so working in the kitchen kind of gave me the direction of where I was going to go.

Compare Miami's dining scene with your other experiences.
I think that Miami is super eclectic. There is so much variety here. Even if I'm craving something specific, I may see something that might change my mind so quickly because there's so much food here.

How has your cooking style changed here in Miami?
Here in Miami it is completely different. In New Orleans it was more American with a French twist. Here I'm doing more multicultural with a European flair, trying to cater to the local market. Because there's so much Latin influence, we can take some of the same ingredients from Europe and make them kind of "localish" so that it appeals to people.

What are the five ingredients every chef must have?
I could list a lot of ingredients. I think it is very important to have a hard working staff as a main ingredient, and great leadership. If you don't have that, what's the point in having anything else? The staples, you know -- salt, pepper, stuff like that. A good pan, good knives, spoons, the essentials.

What's the best advice you could give?
I would follow the same advice given to me: to work hard no matter what you do and be good at it. I've worked with people that have gone to school and studied to be chefs and people that didn't go to school to be chefs, and one cooks better than the other. It's because one has passion. As long as you have passion, it drives you to be good at what you do.

What do you look for in a chef?
I'm unconventional. I don't go over a resume when I'm interviewing someone. We have a conversation so that I know where you're coming from, to know you have honest answers. I ask, what do you like to do? I get to see how they react in a non-textbook interview. Everyone can sound good on paper. I have three tests: can you flip an egg, do you know two types of julienne onions and do you have knife skills. If you can't flip, there's no point in being on sauté.

What is the life of a chef?
A typical day at Angelique would be long hours, coaching the staff to do good, do better, and making sure that they are ready and prepped. I work 10 hours a day, six days a week. On my day off I spend it with my wife and children.