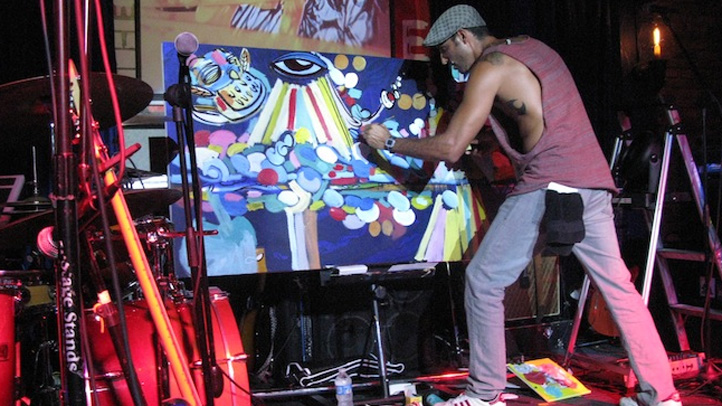 For Miamians, Dave "Lebo" Lebatard's work is unquestionably familiar. His funny characters, complete with their own personalities, grace the sides of prominent buildings and look thoughtfully from Jazid flyers or Spam Allstars album covers. This weekend, The Stage celebrated Soul Fest, showcasing soul music, soul food, and soulful art with a live performance by Lebo.
His work, Lebo said, "is based in the golden age of illustration." Though turned off by graffiti culture, he was always interested in the characters that came from the art form. He realized they were based on cartoon characters from the '50s and '60s.
Specifically, he was influenced by Antonio Pohias, the hand behind Mad Magazine's "Spy vs. Spy," comic. A gift of a stack of back issues when Lebo was 12 changed his life, he said.
"Spy vs. Spy" is black and white strip where a struggle eternally occurs between light and dark; no one spy ever won more than the other. It now reminds Lebo of the Eastern philosophy he has studied since then.
The artist ended up meeting the illustrator at the end of Pohias' life, and they drew together. As it turns out Pohias is also Cuban but spoke no English and lived near the Miami International Airport. After Pohias' passing, Lebo's career took off.
Though the artist has done live painting events with bands over the years, his work is evolving. At The Stage, he put together a live performance with a soundtrack and a video he designed with the help of a DJ and projectionist.
He will probably take the show around the country, but he wanted to start here in Miami, which is, he said "the way I normally start things when I'm cultivating them."
He thought this was a good homegrown event to start with, admitting it was the first time in a while that he got a little nervous."
Lebo wants to tell a story and let it unfold before the audience. With this simple set up, he can do just that.
"I like the arc of storytelling, the stages of storytelling, having a beginning, middle, and end. And this is just a way to do that with pictures and with words and with music," he said.
The tale told Saturday night, he believes, was one of hope, healing, spirituality and oneness. Moving into the future, he might incorporate the skills of choreographers and costume designers.
Both a businessman and an artist, he's not interested in being part of the art crowd and has never been represented by a gallery.
"I grew up in the punk rock world and hardcore world." he said, "For me, it's much more important that little kids and old people kind of get what I do and like it than a museum or a gallery."
He wants everyone to get it ideally, but he'd prefer to appeal to a larger rather than elite audience.
Recently, you might have found him assisting his brother, sportscaster Dan Lebatard, in art direction on his new ESPN show or painting the Hotel des Arts in San Francisco. The artist doesn't often show in Miami except for Art Basel, in his showroom, or by appointment, which makes the Saturday night Soul Fest appearance that much more significant.
To the sounds of Talking Heads and Kings of Convenience, Lebo hypnotized the crowd and illustrated hope by creating a one of a kind painting through a one-time performance.